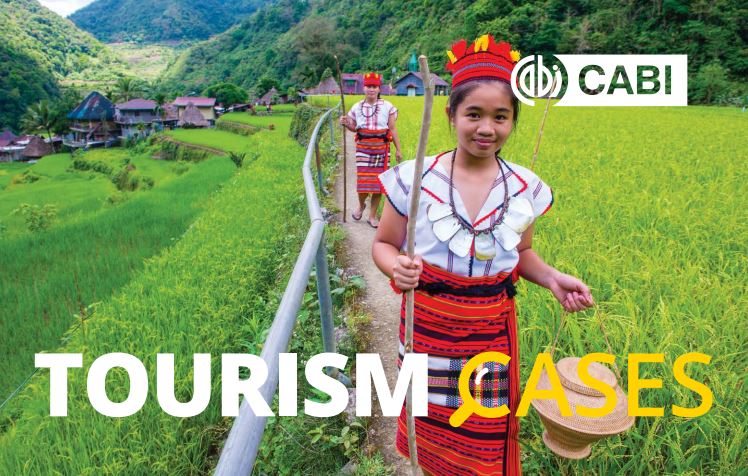 CABI has launched a new publishing product – Tourism Cases – which opens a new window into the world of tourism development through a growing bank of case studies aimed at academics, students, practitioners and consultants.
Experiences and expertise are shared in an initial free-to-search 30 cases studies – including the taster examples Managing Tourism in the Arctic, Blue Ridge Music Trails and Preserving the Ifugao Rice Terraces – that are supplemented by information from CABI book abstracts.
Tourism Cases, in association with Team Tourism Consulting, also encourages individuals and organisations to get involved via 'The Bridge' platform which allows for case material to be submitted and turned into a finalised case study for inclusion on the database.
Case studies are contributed by tourism practitioners and academics from all over the world. They are written for serious readers, whether students, teachers, academics, public stakeholders or industry practitioners, in a style that is accessible.
The case studies describe a situation or development relating to tourism, leisure, hospitality or events. The focus may be business or it may concern planning issues, community relations or protection of the environment. Any issue relating to tourism, leisure or events may be covered.
Claire Parfitt, Senior Commissioning Editor, Tourism, Hospitality and Leisure, said, "CABI's Tourism Cases tell a story, providing enough information to apprehend why the action took place the way it did. It may inspire, but above all it leads the reader to a better understanding of the example and of the principles that it illustrates.
"If you are a person or an organisation that has a story to tell or good case material, but not the resources or skills to turn it into a finalised case study, CABI can arrange for your case to be written.
"Many schools, universities and consultancies are looking for good case material and are keen to make contact with members of the tourism industry. They may have writers (post-graduate students or consultants) who can turn this raw material into finalised case studies, formatted to CABI's requirements
"We call such a collaboration, facilitated by CABI, 'The Bridge.' I'm keen to hear from anyone interested in being involved as a case owner or part of a university post-graduate programme."
Contact Claire Parfitt at c.parfitt@cabi.org for more details.
Tourism Cases can be accessed in two ways – either as Institutional Access or Personal Subscription.
Any institution, school or organisation wishing to subscribe or purchase archive collections of Tourism Cases, for multi-person usage should contact enquiries@cabi.org
For a single-user, annual subscription to the entire collection of Tourism Cases, you can register and purchase access.
Additional information
What is Tourism Cases? Find out more from the video below:
Discover more about Tourism Cases at https://tourism.cabi.org/casestudies/
Related News & Blogs
CABI News
CABI and Equality in Tourism are holding a symposium, which will debate ways to increase gender equality in the tourism industry, to launch a new CABI book edited by Dr Stroma Cole entitled 'Gender Equality in Tourism: Beyond Empowerment.'
20 August 2018