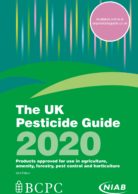 The UK Pesticide Guide 2020
Edited by: Martin A Lainsbury, Association of Independent Crop Consultants (AICC), BCPC for the UKPG
January 2020 | Paperback | 222 Pages | 9781999896638
Description
By far the biggest change to The UK Pesticide Guide in 2020 is the loss of a number of active ingredients that have been fundamental to many crop protection programmes. The final use-up of chlorothalonil formulations; propiconazole, fenpropimorph, chloridazon and diquat occurs in 2020 but there are also a few exciting new additions. Aclonifen is a new residual herbicide for use in potatoes that already has a number of EAMUs for use in minor crops.BASF is launching its new triazole, mefentrifluconazole, which promises to restore full triazole activity, at least initially. On the insecticide front the new active ingredient from Corteva agriscience, sulfoxaflor, is now listed for use in Cucurbitae and ornamentals under full protection for control of aphids and whitefly.
Readership
Suitable for all researchers and practitioners interested in crop protection and pesticide use.
Reviews
Have you read this book, or used it for one of your courses? We would love to hear your feedback. Email our reviews team to submit a review.