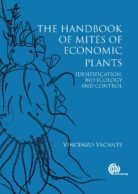 Handbook of Mites of Economic Plants, The
Identification, Bio-ecology and Control
By: Vincenzo Vacante, Mediterranean University, Italy
December 2015 | Hardback | 890 Pages | 9781845939946
December 2015 | ePDF 9781780646152 |
£209.10 | €271.90 | $395.85
Description
Mites pose a serious problem to plants worldwide, attacking crops and spreading disease. When mites damage crops of economic importance the impacts can be felt globally. Mites are among the most diverse and successful of invertebrates, with over 45,000 described species, with many more thousands to be discovered. They are responsible for a significant portion of the losses of crops for food, fibre, industry and other purposes, and require expensive and often controversial pest control measures. Understanding these mites is vital for entomologists, pest researchers, agronomists and food producers.

Knowledge of mite pests helps to inform control strategies and optimize the production of economic plants and the agrarian economy. This encyclopedia provides a thorough coverage of the mites and the problems they cause to crops, yet it is easily searchable, organised by mite species and subdivided into helpful headings. It takes a worldwide view of the issue of mites injurious to economic plants, describing mites prevalent in different regions and discussing control methods appropriate in different environments.

This book provides an encyclopaedic reference to the major mites, described by family in terms of their internal and external morphology, bio-ecology and family systematics. Methods of mite collection and laboratory study is described, as well as species diagnostic characteristics, worldwide distribution, host plants, identification by the type of damage they cause and control strategies, including chemical and biological intervention and integrated pest management measures. Mites of the following families are included: (Eriophyoidea, Tarsonemidae, Tuckerellidae, Tenuipalpidae, Tetranychidae, Acaridae, Penthaleidae).

The Handbook of Mites of Economic Plants is an important resource for students of entomology and crop production, and as a thorough reference guide for researchers and field workers involved with mites, crop damage and food production.
Table of contents
PART I: INTRODUCTION
1: Introduction to the Acari
2: External Morphology
3: Internal Morphology
4: Biology
5: Ecology
6: Collecting and Detecting, Preserving, Preparing and Rearing
7: Mites and Plant Damage
8: Mites as Biocontrol Agents of Weeds
9: Control
10: Brief History of the Main Published Works on the Mites of Economic Plants
11: Classification of and Key for the Identification of Major Taxa
PART II: MITES INJURIOUS TO ECONOMIC PLANTS
12: The Family Histiostomatidae Berlese
13: The Family Acaridae Latreille
14: The Family Erythraeidae Robineau-Desvoidy
15: The Family Penthaleidae Oudemans
16: The Family Eriophyidae Nalepa
17: The Family Phytoptidae Murray
18: The Family Diptilomiopidae Keifer
19: The Family Tuckerellidae Baker et Pritchard
20: The Family Tetranychidae Donnadieu
21: The Family Tenuipalpidae Berlese
22: The Family Tarsonemidae Canestrini et Fanzago
23: Minor Families
Reviews
'The contents of the book are exhaustive of the updated scenario about economic acarology. The schematic design of the chapters and subchapters and the writing style simplicity makes this book an essential tool for researchers, taxonomists and technicians (IPM extension service) involved with mites of economic plants. This book also represent an important resource for entomology and crop protection students. - Giovanni G. BAZZOCCHI, Università di Bologna
The author concludes the volume quite confidently in these terms: "The content of the book can be considered exhaustive, as they represent a synthesis and up-to-date selection of the most important references on the subject..." And he is right. This is a rich and indisputable source for entomologists, pest researchers, agronomists and food producers, an outstanding overview, which will remain without any competitor for a long time. - Hartmurt Greven, Dusseldorf
Like most websites we use cookies. This is to ensure that we give you the best experience possible. Continuing to use
CABI.org
means you agree to our use of cookies. If you would like to, you can learn more about the cookies we use
here
.
Privacy Overview
This website uses cookies to improve your experience while you navigate through the website. Out of these, the cookies that are categorized as necessary are stored on your browser as they are essential for the working of basic functionalities of the website. We also use third-party cookies that help us analyze and understand how you use this website. These cookies will be stored in your browser only with your consent. You also have the option to opt-out of these cookies. But opting out of some of these cookies may affect your browsing experience.