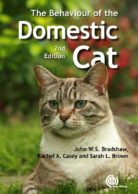 Behaviour of the Domestic Cat
2nd Edition
By: John Bradshaw, University of Bristol, UK, Rachel Casey, Dogs Trust, UK, Sarah Brown, University of Bristol, UK
November 2012 | Paperback | 264 Pages | 9781845939922
November 2012 | ePDF 9781780641201 |
Description
The behaviour of domesticated animals is a subject of great importance to students of animal behaviour and veterinary medicine, as well as interested pet owners. This book presents an engaging overview of the behaviour of the domestic cat, adopting both a mechanistic and functional approach. Physiological, developmental and psychological aspects are addressed, including domestication, the development of the senses, learning, communication and feeding behaviour. The authors build on these themes to discuss social behaviour, hunting and predation, cat-human interactions and welfare. Fully updated throughout, this new edition also includes two new chapters on behavioural disorders due to pathologies and from misdirected natural behaviour. It is an essential source of cat behaviour information for students, ethologists, veterinarians and pet owners.
Table of contents
1: The Cat: Domestication and Biology
2: Sensory Abilities
3: Mechanisms of Behaviour
4: Behavioural Development
5: Communication
6: Feeding Behaviour
7: Hunting and Predation
8: Social Behaviour
9: The Cat-Human Relationship
10: Cat Welfare
11: Undesired Behaviour in the Domestic Cat
12: Physiological and Pathological Causes of Behavioural Change
Readership
Written by renowned academic experts this book presents an engaging overview of the behaviour of the domestic cat covering physiological, developmental and psychological aspects.
Reviews
This well-written, interesting book provides a great deal of information about the underlying mechanisms of behaviour in domestic cats. This updated edition will be a valuable resource for anyone interested in the study of ethology. Highly recommended – Choice Reviews July 2013 "This book is essential to all veterinarians who see cats – not as a bedtime read, but as a reference to keep on the shelf. There is an extensive list of references and the index is very comprehensive, making an information search on any topic very easy. Highly recommended!" – Australian Veterinary Journal "This book is a welcome addition to the feline behaviour literature and will be of use to many, including veterinarians, veterinary students, feline biologists and behaviourists, as well as educated cat owners." – JAVMA
Dr John Bradshaw is a Visiting Fellow and Director of the Anthrozoology Institute at the University of Bristol, where he was formerly Reader in Companion Animal Behaviour and University Research Theme Leader for Animal Welfare & Behaviour. His main research interests are in the behaviour and welfare of domestic cats and dogs, and their relationships with people; he has published over 100 research papers and book chapters on these topics. Since 2009 he has focused his attention on the dissemination of animal welfare science to pet owners: his book "Dog Sense/In Defence of Dogs" was a non-fiction bestseller in both the UK and USA in 2011, and has been translated into nine other languages. He was one of the founders of the International Society for Anthrozoology (ISAZ), and has been a member of the Council of the Association for the Study of Animal Behaviour (ASAB) and set up its Accreditation Committee (1999-present).
Rachel is Director of Canine Behaviour and Research at Dogs Trust, the UK's largest dog charity. She is a RCVS and an EBVS® European Veterinary Specialist in Behavioural Medicine and an EBVS® European Veterinary Specialist in Animal Welfare, Science, Ethics and Law. She has research interests in canine welfare science, including identification of risk factors for undesired behaviours. Rachel also oversees community programmes aimed at preventing behaviour problems, and the behavioural rehabilitation of dogs in rehoming centres.
Like most websites we use cookies. This is to ensure that we give you the best experience possible. Continuing to use
CABI.org
means you agree to our use of cookies. If you would like to, you can learn more about the cookies we use
here
.
Privacy Overview
This website uses cookies to improve your experience while you navigate through the website. Out of these, the cookies that are categorized as necessary are stored on your browser as they are essential for the working of basic functionalities of the website. We also use third-party cookies that help us analyze and understand how you use this website. These cookies will be stored in your browser only with your consent. You also have the option to opt-out of these cookies. But opting out of some of these cookies may affect your browsing experience.