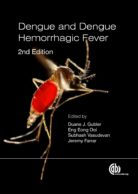 Dengue and Dengue Hemorrhagic Fever
2nd Edition
Edited by: Duane J Gubler, Duke-NUS Graduate Medical School, Singapore, Eng Eong Ooi, Duke-NUS Graduate Medical School, Singapore, Goro Kuno, Arboviral Disease Branch, Centers for Disease Control and Prevention, Subhash Vasudevan, Duke-NUS Graduate Medical School, Singapore, Jeremy Farrar, Wellcome Trust, UK
August 2014 | Hardback | 624 Pages | 9781845939649
November 2019 | Paperback | 624 Pages | 9781786395382
August 2014 | ePDF 9781845939656 | ePub 9781789243925
£147.60 | €192.20 | $279.75
Description
Continued geographic expansion of dengue viruses and their mosquito vectors has seen the magnitude and frequency of epidemic dengue/dengue hemorrhagic fever (DF/DHF) increase dramatically. Recent exciting research on dengue has resulted in major advances in our understanding of all aspects of the biology of these viruses, and this updated second edition brings together leading research and clinical scientists to review dengue virus biology, epidemiology, entomology, therapeutics, vaccinology and clinical management.
Table of contents
I: History & Epidemiology
1: Dengue Viruses: their evolution, history and emergence as a global public health problem
2: Mapping the Epidemiology of Dengue
3: Economic and Disease Burden of Dengue
4: Surveillance for Dengue
5: Dengue Infections in Travelers
6: A review of transmission models of dengue: a quantitative and qualitative analysis of model features
II: The Disease
7: Clinical Features of Dengue
8: Neurological Manifestations of Dengue Virus Infection
9: The Southeast Asia Regional Office (WHO) Guidelines for Clinical management of Dengue Hemorrhagic Fever
10: Laboratory Diagnosis of Dengue
11: Dengue Pathogenesis - Host Factors
12: Dengue Pathogenesis – Viral Factors
13: The acquired immune response in dengue virus infection
14: Innate Immune Responses to Dengue Infection
15: Pathology of Dengue Virus Infection
16: Dengue Drug Development
III: The virus
17: Taxonomy and Evolutionary Relationships of Flaviviruses
18: Molecular Virology of Dengue Virus
19: The structural biology of dengue virus
20: The Non-Structural Proteins of Dengue Virus
IV: Virus-host interaction
21: The Interface between Dengue Virus and the Human Host
22: Dengue Virus-Mosquito Interactions and Molecular Methods of Vector Control
23: Animal Models of Dengue Infection and Disease
V: Dengue prevention
24: Dengue vector bionomics: Why Aedes aegypti is such a good vector
25: Surveillance and control of urban dengue vectors
26: Dengue Vector Control - New Approaches
27: Biological control of dengue and Wolbachia-based strategies
28: Dengue Vaccines
29: Dengue Virus Neutralization and Surrogates of Protection
Reviews
Have you read this book, or used it for one of your courses? We would love to hear your feedback. Email our reviews team to submit a review.
Like most websites we use cookies. This is to ensure that we give you the best experience possible. Continuing to use
CABI.org
means you agree to our use of cookies. If you would like to, you can learn more about the cookies we use
here
.
Privacy Overview
This website uses cookies to improve your experience while you navigate through the website. Out of these, the cookies that are categorized as necessary are stored on your browser as they are essential for the working of basic functionalities of the website. We also use third-party cookies that help us analyze and understand how you use this website. These cookies will be stored in your browser only with your consent. You also have the option to opt-out of these cookies. But opting out of some of these cookies may affect your browsing experience.