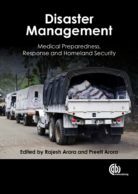 Disaster Management
Medical Preparedness, Response and Homeland Security
Edited by: Rajesh Arora, Defence Research and Development Organization, Delhi, India, Preeti Arora, Guru Gobind Singh Indraprastha University, India
September 2013 | Hardback | 680 Pages | 9781845939298
September 2013 | ePDF 9781845939304 | ePub 9781789243949
£136.15 | €180.50 | $259.75
Description
Disaster management is an increasingly important subject, as effective management of both natural and manmade disasters is essential to save lives and minimize casualties. This book discusses the best practice for vital elements of disaster medicine in both developed and developing countries, including planning and preparedness of hospitals, emergency medical services, communication and IT tools for medical disaster response and psychosocial issues. It also covers the use of state-of the-art training tools, with a full section on post-disaster relief, rehabilitation and recovery.
Table of contents
Section 1: Disaster Management and Homeland Security: A Prologue
1: A Holistic View to Managing the Inevitable in High-tech and 3 Resource-poor Settings
Section 2: Training, Mitigation and Medical Preparedness
2: The Role of the Primary Care Physician in Disasters
3: Manikin Simulation for Mass Casualty Incident Training
Section 3: Crucial Role of Communication in Disaster Management and Homeland Security
4: The Role of Social Networking in Disaster Management
5: Regional Disaster Planning for Neonatal Intensive Care
6: Application of Mobile Grids for Disaster Management
Section 4: Disasters and Mass Casualty Incidents: Incident Site Command and Control, Point-of-Care Testing
7: Disaster Point-of-Care Testing: Fundamental Concepts and New Technologies
8: Incident Command Systems
9: Incident Site Command and Control
10: Disasters in Medical Care Contexts: Planning for Resilience in Incident Command Personnel and Systems in Hospitals
11: Information Management during the Disaster Medical Support Planning and Execution Phases
Section 5: Medical Management of Complex Disasters and MCI Victims in Hospitals
12: Potential Application of Established Pre-hospital and Hospital Synergy in Disaster Management
13: Process Management of Multiple Casualty Events
Section 6: Securing the Homeland: The Medical Way
14: Suicide Bombing Response
15: Hospital Triage and Bottlenecks to the Flow of Casualties: A Review
16: Role of Military Hospitals in Handling Chemical and Biological Disasters
17: Initial Management of Mass Casualty Incidents
18: Emergency Decontamination in Low-resource Settings
19: Radiological Contaminants: Triage, Treatment and Medical Management of Exposed Persons
Section 7: Defeating Emerging Health Threats: Managing by Prophylactic and Therapeutic Approaches
20: Superhumanized Antibodies for Biodefence: The Example of Anthrax
21: Medical Support in the Case of Chemical and Biological Incidents
22: Gearing up Paraphernalia for the Management of CBRN Emergencies: A Multi-stakeholder Approach is the Need of the Hour
23: Prophylactic Possibilities in Case of High Risk of Exposure to Nerve Agents
Section 8: Handling Psychosocial Issues: A Difference in Perspective (Developed and Developing Nations)
24: Collective Resilience versus Collective Vulnerability after Disasters: A Social Psychological Perspective
25: Community-based Psychosocial Support: an Overview
26: Disaster Mental Health: A Paradigm Shift from Curative to Preventive Psychiatry
27: Efficient Human Resource Management Contributes to Augmented Societal Resilience in the Aftermath of Disasters:Lessons from the 2011 Tohoku Earthquake and Tsunami
Section 9: Bridging the Great Divide: The Challenge of Managing Disasters and MCIs in Resource-poor Settings
28: Managing Disasters from a Health Security Perspective
29: Management of the 2011 Japan Multiple Disasters (Earthquake, Tsunami and Ensuing Disasters): A View through an International Lens
30: Viewing Mass Casualties from a Hospital Window: Relevant Issues for the Developing World
Section 10: Post-disaster Relief, Rehabilitation and Recovery
31: The Immediate Post-disaster Reconstruction Phase:Alternate Care Site Settings and Vulnerable Populations
32: Management of Dead following Disasters and Mass Casualty Incidents: Critical Operational Issues Revolve around Human Resources and Logistics
33: Disaster Management: The Socioeconomic Dimension
34: Fostering Disaster-resilient Communities through Educating Children and Women for Disaster Preparedness, Response and Recovery in Developing Countries
35: Index
Reviews
Have you read this book, or used it for one of your courses? We would love to hear your feedback. Email our reviews team to submit a review.
Like most websites we use cookies. This is to ensure that we give you the best experience possible. Continuing to use
CABI.org
means you agree to our use of cookies. If you would like to, you can learn more about the cookies we use
here
.
Privacy Overview
This website uses cookies to improve your experience while you navigate through the website. Out of these, the cookies that are categorized as necessary are stored on your browser as they are essential for the working of basic functionalities of the website. We also use third-party cookies that help us analyze and understand how you use this website. These cookies will be stored in your browser only with your consent. You also have the option to opt-out of these cookies. But opting out of some of these cookies may affect your browsing experience.