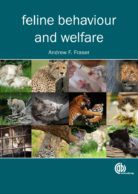 Feline Behaviour and Welfare
By: Andrew Fraser, formerly Memorial University of Newfoundland, Canada
August 2012 | Hardback | 216 Pages | 9781845939267
August 2012 | Paperback | 216 Pages | 9781845939274
$160.95 | £85.50 | €112.00
Description
Cats are the world's most popular domestic pet, as well as being wild animals. This comprehensive book on feline behaviour explores both the familiar domesticated animal and wild relatives such as the leopard, tiger and lynx to examine the Felidae family as a whole, allowing for fascinating comparisons between wild and domestic species and explanations of behaviour in pet cats with evolutionary origins. Fraser's work helps increase readers' understanding of cat behaviour - why they behave as they do, for what purpose and why. The focus is on identifying normal behaviour from the cat's perspective, with a welfare theme running throughout; as exhibitions of normal behaviour provide evidence of good welfare, and abnormal behaviour can be an indicator of poor welfare. Providing a veterinary perspective - by including coverage of feline physiology, life stages and reproduction - as well as an ethological one, this is an important read for veterinarians, shelter workers, animal behaviourists and students of veterinary medicine and animal welfare, while also being of interest to pet owners.
Table of contents
1: Introduction
2: Well-being and Its Roots
3: Feline Neuroethology
4: Play and the Steps Through Life
5: Basic Activities
6: Association and Reproduction
7: Giant Wild Cats
8: Principal Species of Wild Cats
9: Minor Wild Cat Species
10: Common and Comparative Feline Features
11: Abnormal Behaviour and Training
12: Health Monitoring
13: Points of Welfare
14: Review of Well-being
Readership
Providing fascinating comparisons between wild and domestic species, this comprehensive title explains feline behaviour from a perspective of evolutionary heritage.
Reviews
Fraser presents a commonsense discussion of feline behaviour and welfare. Recommended – CHOICE

"The strengths of this book are the information provided regarding comparative behaviour among wild and domestic cats and welfare-related issues." – JAVMA
Like most websites we use cookies. This is to ensure that we give you the best experience possible. Continuing to use www.cabi.org means you agree to our use of cookies. If you would like to, you can learn more about the cookies we use here.