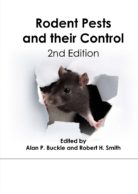 Rodent Pests and Their Control
2nd Edition
Edited by: Alan P Buckle, University of Reading, UK, Robert H Smith, University of Huddersfield, UK
May 2015 | Hardback | 432 Pages | 9781845938178
May 2015 | ePDF 9781780641294 | ePub 9781789244472
Description
The most numerous of the world's invasive species, rodent pests have a devastating impact on agriculture, food, health and the environment. In the last two decades, the science and practice of rodent control has faced new legislation on rodenticides, the pests' increasing resistance to chemical control and the impact on non-target species, bringing a new dimension to this updated 2nd edition and making essential reading for all those involved in rodent pest control, including researchers, conservationists, practitioners and public health specialists.
Table of contents
1: The Natural History of Rodents: Preadaptations to Pestilence
2: Commensal Rodents
3: Rodents in Agriculture and Forestry
4: Rodents as Carriers of Disease
5: Rodent Control Methods: Non-chemical and Non-lethal Chemical, with Special Reference to Food Stores
6: Control Methods: Chemical
7: The Laboratory Evaluation of Rodenticides
8: Field Evaluation of Rodenticides
9: Resistance to Anticoagulant Rodenticides
10: Damage Assessment and Damage Surveys
11: Rodent Control in Practice: Protection of Humans and Animal Health
12: Rodent Control in Practice: Temperate Field Crops and Forestry
13: Rodent Control in Practice: Tropical Field Crops
14: Sociology and Communication of Rodent Management in Developing Countries
15: Ethics in Rodent Control
16: Environmental Impacts of Rodenticides
17: Monitoring Rodenticide Residues in Wildlife
18: Rodent Control and Island Conservation
19: Rodent Control: Back to the Future (the Sequel)
Reviews
Have you read this book, or used it for one of your courses? We would love to hear your feedback. Email our reviews team to submit a review.
Like most websites we use cookies. This is to ensure that we give you the best experience possible. Continuing to use
CABI.org
means you agree to our use of cookies. If you would like to, you can learn more about the cookies we use
here
.
Privacy Overview
This website uses cookies to improve your experience while you navigate through the website. Out of these, the cookies that are categorized as necessary are stored on your browser as they are essential for the working of basic functionalities of the website. We also use third-party cookies that help us analyze and understand how you use this website. These cookies will be stored in your browser only with your consent. You also have the option to opt-out of these cookies. But opting out of some of these cookies may affect your browsing experience.