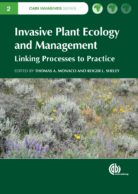 Invasive Plant Ecology and Management
Linking Processes to Practice
Edited by: Thomas Monaco, USDA-ARS, Forage and Range Research Laboratory, Utah State University, USA, Roger Sheley, USDA-ARS, Eastern Oregon Agricultural Research Center, USA
March 2012 | Hardback | 216 Pages | 9781845938116
March 2012 | ePDF 9781845938895 |
Series : CABI Invasives Series
£90.20 | €118.25 | $169.95
Description
Bringing together ecology and management of invasive plants within natural and agricultural ecosystems, this book bridges the knowledge gap between the processes operating within ecosystems and the practices used to prevent, contain, control and eradicate invasive plant species. The book targets key processes that can be managed, the impact of invasive plants on these ecosystem processes and illustrates how adopting ecologically based principles can influence the ecosystem and lead to effective land management.
Table of contents
PART I: Assessing ecosystem processes and invasive plant impacts
1: Managing invasive species in heterogeneous ecosystems
2: Linking disturbance regimes, vegetation dynamics, and plant strategies across complex landscapes to mitigate and manage plant invasions
3: Land-use legacy effects of cultivation on ecological processes
4: Resource pool dynamics: conditions that regulate species interactions and dominance
5: Invasive plant impacts on soil properties, nutrient cycling, and microbial communities
PART 2: Principles and practices to influence ecosystem change
6: Weather variability, ecological processes, and optimization of soil micro-environment for rangeland restoration
7: The effects of plant-soil feedbacks on invasive plants: mechanisms and potential management options
8: Species performance: the relationship between nutrient availability, life history traits, and stress
9: Reducing invasive plant performance: a precursor to restoration
10: Revegetation: using current technologies and ecological knowledge to manage site availability, species availability, and species performance
Reviews
Have you read this book, or used it for one of your courses? We would love to hear your feedback. Email our reviews team to submit a review.
Tom is a research Ecologist with USDA-ARS, Forage and Range Research Laboratory in Logan, Utah. He principally studies plant-soil interactions of invasive weeds and develop strategies to improve vegetation management of shrub-steppe ecosystems of the Great Basin. He works closely with plant breeders, private landowners, and natural resource managers to better understand and restore vegetation dynamics that lead to stable, diverse, and productive rangelands. His past research describes differential responses of numerous perennial grasses and invasive annual grasses to changes in soil resources and herbicide application. Tom has recently conducted landscape-scale research to evaluate plant materials and management strategies to stabilize salt desert shrub ecosystems invaded by Bromus tectorum.
Roger is an Invasive Plant Ecologist with USDA-ARS, Range and Forage Meadow Management Research Unit in Burns, Oregon. His entire career has focused on understanding ecological processes that drives invasion and using that knowledge to create ecological principles for management. He has been a key principle in the development of Ecologically-based Invasive Plant Management (EBIPM), started the Center for Invasive Plant Management at Montana State University, and managed the Area-wide Implementation of EBIPM for the Agricultural Research Service. Roger has published over 100 refereed journal articles on invasion biology, restoration, and arid land management. His current research focuses on using life-history analysis to identify and quantify those ecological processes that are central to directing invasion and succession and developing management strategies that alter those processes to create desired vegetation trajectories in range and wild ecosystems.
Like most websites we use cookies. This is to ensure that we give you the best experience possible. Continuing to use
CABI.org
means you agree to our use of cookies. If you would like to, you can learn more about the cookies we use
here
.
Privacy Overview
This website uses cookies to improve your experience while you navigate through the website. Out of these, the cookies that are categorized as necessary are stored on your browser as they are essential for the working of basic functionalities of the website. We also use third-party cookies that help us analyze and understand how you use this website. These cookies will be stored in your browser only with your consent. You also have the option to opt-out of these cookies. But opting out of some of these cookies may affect your browsing experience.