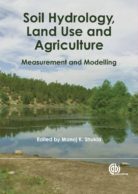 Soil Hydrology, Land Use and Agriculture
Measurement and Modelling
Edited by: Manoj Shukla, New Mexico State University, USA
August 2011 | Hardback | 448 Pages | 9781845937973
August 2011 | ePDF 9781845938772 |
£112.99 | €146.75 | $215.30
Description
Agriculture is strongly affected by changes in soil hydrology as well as by changes in land use and management practices and the complex interactions between them. This book aims to expand our knowledge and understanding of these interactions on a watershed scale, using soil hydrology models, and to address the consequences of land use and management changes on agriculture from a research perspective. Case studies illustrate the impact of land use and management practices on various soil hydrological parameters under different climates and ecosystems.
Table of contents
1: Introduction to soil hydrology
2: Hydrology past, present and future
3: Over-view of existing soil hydrology models
4: Modeling agricultural management systems with APEX
5: Application of WEPP model to hillslopes and small watersheds in the US
6: Application of WEPP a distributed hydrological model on some Austria Watersheds
7: Application of the Soil and Water Assessment Tool (SWAT) for hydrological modelling in Germany
8: Spatially Distributed Hydrologic Modeling in Illinois River Drainage Area in Arkansas Using SWAT
9: Application of a distributed hydrological model for hydrological modeling in India
10: Application of RZWQM for hydrological modeling in Alcalde Basin of Northern New Mexico
11: A comprehensive, physically based model for surface and subsurface hydrology for small catchments
12: Effects of artificial drainage on water regime and solute transport at different spatial scales
13: Effect of land use and soil management on soil properties and processes
14: Land use and agricultural management systems effects on subsurface drain water quality and crop yields
15: Different types of climatic datasets for hydrological analysis
16: Climate change and soil hydrology: European perspective
17: Modeling the impacts of climate change on water balance and agricultural productivity in southern Portugal using SWAT
18: Soil hydrology, runoff, and soil erosion under future climate change
19: Remote sensing and soil hydrology
Reviews
Have you read this book, or used it for one of your courses? We would love to hear your feedback. Email our reviews team to submit a review.
I earned a PhD degree from University of Agricultural Sciences Vienna, Austria in a collaborative program with University of California Davis. I was a postdoctoral Research Associate at University of Illinois, a Research Scientist at the Ohio State University, an Assistant and now an Associate Professor of Environmental Soil Physics at the New Mexico State University. I am a recipient of Patricia Christmore Faculty Teaching award, NACTA Teaching award of Merit, and RGBI integrated program team award. I am a member of many professional societies including AAAS, AGU, SSSA, ASABE, etc. I have served as an Associate Editor and Editorial board member of Soil Science Society America Journal and as an Executive Secretary of Indian Association of Hydrologists. Currently I serve on the regional coordination committee for trickle irrigation, member of PES curriculum committee, graduate studies committee, Howard Hughes scholar program, as a mentor to AMP undergrad student, and as an advisor to more than ten undergraduate students. I served as chair for five students graduated with a master's degree from the NMSU. Currently, I serve as a chair for four graduate students and as a committee member for six others. I teach environmental soil physics, advanced soil physics and introductory soils (on-occasion). My research interests are related mostly to soil physics, spatial and temporal variability of soil properties, and water and solute transport under different land use and management systems at multiple scales. I have received over $2 M as research funding from various agencies including a major grant during 2008 from USDA-CSREES ($650K) and DOE ($800K). I have co-authored a text-book "Principles of Soil Physics", published more than 40 peer-reviewed journal articles, several research reports, proceeding papers and book chapters.
Like most websites we use cookies. This is to ensure that we give you the best experience possible. Continuing to use
CABI.org
means you agree to our use of cookies. If you would like to, you can learn more about the cookies we use
here
.
Privacy Overview
This website uses cookies to improve your experience while you navigate through the website. Out of these, the cookies that are categorized as necessary are stored on your browser as they are essential for the working of basic functionalities of the website. We also use third-party cookies that help us analyze and understand how you use this website. These cookies will be stored in your browser only with your consent. You also have the option to opt-out of these cookies. But opting out of some of these cookies may affect your browsing experience.