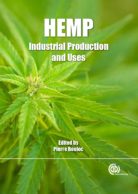 Hemp
Industrial Production and Uses
Edited by: Pierre Bouloc, La Chanvriere de L'Aube (LCDA), France, Serge Allegret, La Chanvriere de L'Aube (LCDA), France, Laurent Arnaud, La Chanvriere de L'Aube (LCDA), France
September 2013 | Paperback | 328 Pages | 9781845937928
September 2013 | ePDF 9781780641751 | ePub 9781789244076
Description
Hemp production for industrial purposes continues to grow worldwide, and is currently being used for many applications including house insulation, paper making, animal bedding, fabric, rope making and also as a biofuel. This book brings together international experts to examine all aspects of industrial hemp production, including the origins of hemp production, as well as the botany and anatomy, genetics and breeding, quality assessment, regulations, and the agricultural and industrial economics of hemp production. A translation of Le Chanvre Industriel, this book has been revised and updated for an international audience and is essential reading for producers of industrial hemp, industry personnel and agriculture researchers and students.
Table of contents
1: Hemp: A Plant with a Worldwide Distribution
2: The History of Hemp
3: Physiology and Botany of Industrial Hemp
4: Genetics and Selection of Hemp
5: Factors Affecting the Yield of Industrial Hemp – Experimental Results from France
6: Hemp Agronomics and Cultivation
7: Legislative Controls on the Cultivation of Hemp
8: The Agricultural Economics of Hemp
9: The Industrial Hemp Economy
10: Integrated Quality Management for Bast Fibres in Technical Applications
11: Use of Natural Fibres in Composites for German Automotive Production from 1999 to 2005
12: Increasing Demand for European Hemp Fibres
13: Hemp in Papermaking
14: Hemp and Plastics
15: Medicinal Uses of Hemp
16: Hemp Seeds for Nutrition
17: Hemp and the Construction Industry
18: The Uses of Hemp for Domestic Animals
19: Chemical and Morphological Differences in Hemp Varieties
20: Hemp Production Outside the EU – North America and Eastern Europe
21: The Role of Hemp in Sustainable Development
Reviews
Have you read this book, or used it for one of your courses? We would love to hear your feedback. Email our reviews team to submit a review.
Like most websites we use cookies. This is to ensure that we give you the best experience possible. Continuing to use
CABI.org
means you agree to our use of cookies. If you would like to, you can learn more about the cookies we use
here
.
Privacy Overview
This website uses cookies to improve your experience while you navigate through the website. Out of these, the cookies that are categorized as necessary are stored on your browser as they are essential for the working of basic functionalities of the website. We also use third-party cookies that help us analyze and understand how you use this website. These cookies will be stored in your browser only with your consent. You also have the option to opt-out of these cookies. But opting out of some of these cookies may affect your browsing experience.