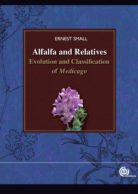 Alfalfa and Relatives
Evolution and Classification of Medicago
By: Ernest Small, Agriculture and Agri-Food Canada
May 2011 | Hardback | 850 Pages | 9781845937508
$243.05 | £127.20 | €160.15
Description
Best known as an animal feed, Alfalfa Medicago sativa is one of the most important and widely produced livestock crops grown throughout the temperate world. "Alfalfa and Relatives: Evolution and Classification of Medicago" provides an in-depth introduction to the Medicago genus, exploring its evolution, breeding and adaptation. Not only are Alfalfa's agricultural and environmental benefits unsurpassed but, due to technological advances, this staple crop is now being developed as a source of human food extracts, pharmaceuticals, enzymes, industrial chemicals, and biofuels. Through this detailed text the authors define the ecological applications of the plant whilst carefully illustrating its economic value and its growing importance as a genetic resource.
Table of contents
1: Introduction
2: The Economic Importance of Medicago
3: Genetic Resources
Part I: THE EVOLUTION OF MEDICAGO
4: Biogeography
5: Chromosome Evolution
6: Interbreeding Barriers
7: Adaptations in Medicago
8: . Coevolution with Nitrogen-fixing Bacteria
Part II: THE CLASSIFICATION AND IDENTIFICATION OF MEDICAGO
9: Circumscription of the Genus Medicago and its Classification in the Fabaceae
10: Phylogenetic Lineages and their Classification into Sections and Subsections
Part III: ACCOUNTS OF THE SPECIES
11: . Identification of Species and Infraspecific Taxa
12: Medicago sativa
Part IV: THE OTHER SPECIES
13: Literature Cited
14: Glossary
15: Guide to Scientific Synonyms
16: Index
Reviews
Have you read this book, or used it for one of your courses? We would love to hear your feedback. Email our reviews team to submit a review.
Like most websites we use cookies. This is to ensure that we give you the best experience possible. Continuing to use www.cabi.org means you agree to our use of cookies. If you would like to, you can learn more about the cookies we use here.