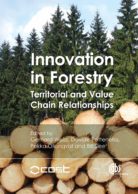 Innovation in Forestry
Territorial and Value Chain Relationships
Edited by: Gerhard Weiss, BOKU University Vienna, Davide Pettenella, University of Padova, Italy, Pekka Ollonqvist, Finnish Forest Research Institute, Finland, Bill Slee, The Macaulay Land Use Research Institute, Scotland
February 2011 | Hardback | 344 Pages | 9781845936891
February 2011 | ePDF 9781845937218 |
£102.40 | €130.40 | $192.65
Description
Innovation is increasingly recognised as a key factor in environmental protection and balanced sustainable development within the forestry sector. This volume provides a comprehensive theoretical foundation for the analysis of innovation processes and policies in a traditional, rural sector as well as presenting empirical analyses of innovation processes from major innovation areas. Territorial services of the forest sector are examined, including various types of forest ecosystem services such as carbon sequestration or recreation and wood value chains, including timber frame construction and bioenergy.
Table of contents
1: The Study of Innovation in the Forest Sector: Relevance and Research Background
2: Theoretical Approaches for the Analysis of Innovation Processes and Policies in the Forest Sector
3: Networks of Small-Medium Enterprises Operating in Forestry: Some Theoretical Concepts and Empirical Evidence
4: Innovation-related Knowledge Flows: Comparative Analysis of Finnish and Estonian Wood Sectors
5: Institutional Innovation in European Private forestry: the Emergence of Forest Owners' Organizations
6: The Contribution of Leader+ to the Implementation of Innovative Forest-related Projects
7: How to Support Firm Competitiveness in Timber Industries? Clusters as Policy Means in Four European Countries
8: Innovation in Forest-related Territorial Goods and Services: an Introduction
9: Innovative Market Opportunities Related to Carbon Sequestration in European Forests?
10: The Role of Networks in Non-wood Forest Products and Services Market Development
11: The Role of Cooperation in Enhancing Innovation in Nature-based Tourism Services
12: Innovations in Wood-based Enterprises, Value Chains and Networks: an Introduction
13: Role of Policies and National Programmes on Innovations in Timber-frame Construction
14: Networks and Local Milieus as a Furniture Industry Innovation Platform
15: Innovation in the Wood Bio-energy Sector in Europe
16: Policy and Market-related Factors for Innovation in Forest Operation Enterprises
17: Innovation in EU Forestries: a Science-Policy Dialogue
18: How to Support Innovation in the Forest Sector: Summary and Conclusions
Reviews
Have you read this book, or used it for one of your courses? We would love to hear your feedback. Email our reviews team to submit a review.
Like most websites we use cookies. This is to ensure that we give you the best experience possible. Continuing to use
CABI.org
means you agree to our use of cookies. If you would like to, you can learn more about the cookies we use
here
.
Privacy Overview
This website uses cookies to improve your experience while you navigate through the website. Out of these, the cookies that are categorized as necessary are stored on your browser as they are essential for the working of basic functionalities of the website. We also use third-party cookies that help us analyze and understand how you use this website. These cookies will be stored in your browser only with your consent. You also have the option to opt-out of these cookies. But opting out of some of these cookies may affect your browsing experience.