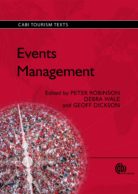 Events Management
Edited by: Peter Robinson, Leeds Beckett University, UK, Debra Wale, University of Wolverhampton, UK, Geoff Dickson, AUT University, New Zealand
September 2010 | Paperback | 256 Pages | 9781845936822
September 2010 | ePDF 9781780640723 |
Series : CABI Tourism Texts
Description
Event management studies are fast growing in popularity, covering a diverse range of activities such as music and film festivals, concerts, sporting events and conferences. This textbook gives a broad and practical coverage of the major themes in events. Outlining both the historical developments and current state of the industry, whilst also taking into account wider political and cultural issues, the book covers the different elements of planning, project management, health and safety, funding, operations, human resources, marketing and logistics that are vital for successful management. Critical issues such as impacts, sustainability and legacy of events are also discussed. Supported by international case studies and review questions, Events Management provides a current and up-to-date view of the industry in this field.
Table of contents
I: Introduction
Part 1: Context and concepts
1: Culture and the Event Experience - Ghislaine Povey & Jo-Ansie Van Wyck
2: Developing the Event Concept - Alison Booth
3: Event Networks and Supply Chains - Geoff Dickson
Part 2: Event Planning & Operations Management
4: Funding. Sponsorship and Financial Management - Caroline Wiscombe
5: Delivering Live Events - Peter Robinson, Ade Oriade & Steve Gelder
Part A: The Event Idea
Part B: Pre-Event Planning
Part C: The Big Day!
Part D: The Big Tidy-Up
6: Successful Staffing of Events - Sine Heitmann & Christine Roberts
7: Marketing Events - Debra Wale & Andrew Ridal
8: Managing a Quality Experience - Ade Oriade
9: Sustainable Events Management - Sine Heitmann & Dr. Dávid Lóránt
Part 3: Critical and contemporary issues 10. Event Strategy - Crispin Dale & Dimitri Tassiopolous
11: Event Legacy - Geoff Dickson
II: Conclusion
Reviews
Have you read this book, or used it for one of your courses? We would love to hear your feedback. Email our reviews team to submit a review.
Peter Robinson is Head of the Centre for Tourism and Hospitality Management at Leeds Beckett University. Prior to entering academia Peter gained experience in the public, private and voluntary sectors within tourism, hospitality and events management, including senior management roles with The National Trust and Derby University as Tourism Projects Manager overseeing a range of EU funded business support projects.
Peter has worked as a business development consultant (mainly within the leisure sector) with a number of high profile clients across the UK. Peter has gained experience developing businesses in the tourism, events, automotive, retail and IT sectors. He is currently a Trustee of the Carpet Museum in Kidderminster and Elvaston Castle and Gardens Trust.
He is a Member of The Tourism Society and The Tourism Management Institute, and a fellow of the Higher Education Academy The Institute for Travel and Tourism Management (and a member of the ITT Education an Training Committee). Peter is a Principal Fellow of the Higher Education Academy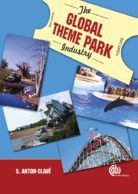 Global Theme Park Industry
By: Salvador Anton Clavé
From
£40.65 | €54.40 | $79.15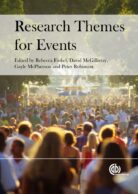 Research Themes for Events
Edited by: Rebecca Finkel, Rebecca Finkel, David McGillivray, David McGillivray, Gayle McPherson, Gayle McPherson, Peter Robinson, Peter Robinson
From
£79.20 | €102.20 | $146.75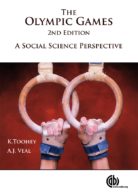 Olympic Games
By: Kristine Toohey, A.J. Veal
From
£45.40 | €61.95 | $84.95
Like most websites we use cookies. This is to ensure that we give you the best experience possible. Continuing to use
CABI.org
means you agree to our use of cookies. If you would like to, you can learn more about the cookies we use
here
.
Privacy Overview
This website uses cookies to improve your experience while you navigate through the website. Out of these, the cookies that are categorized as necessary are stored on your browser as they are essential for the working of basic functionalities of the website. We also use third-party cookies that help us analyze and understand how you use this website. These cookies will be stored in your browser only with your consent. You also have the option to opt-out of these cookies. But opting out of some of these cookies may affect your browsing experience.