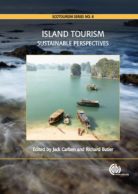 Island Tourism
Sustainable Perspectives
Edited by: Jack Carlsen, Curtin University of Technology, Australia, Richard Butler, Strathclyde University, UK
March 2011 | Hardback | 264 Pages | 9781845936792
March 2011 | ePDF 9781845936990 |
Series : Ecotourism Series
£88.00 | €115.35 | $165.80
Description
Islands are the most vulnerable and fragile of tourism destinations and will experience even more pressure as the combined impacts of economic, social and environmental change accelerate in the future. In order to understand the process of island tourism development, response to change and challenges and their journey to sustainability, this book provides insights and instruction on topics including social, cultural, environmental and economic aspects of island tourism. It contains essential information for policymakers, planners, researchers, managers and operators within the tourism industry.
Table of contents
1: Introducing Sustainable Perspectives of Island Tourism
PART I: ECOLOGICALLY SUSTAINABLE PERSPECTIVES OF ISLAND TOURISM
2: Aliens in an Ancient Landscape: Rabbits, Rats andTourists on Macquarie Island
3: From Sand Mining to Sand Bashing in About 30 Years:a Difficult Journey Towards Sustainable Tourism for Fraser Island
4: Managing Tourism on Green Island, Great Barrier ReefMarine Park: Conservation, Commerce and Compromises
5: Tourism and Sustainability in the Lakshadweep Islands
6: The Risk of Climate Change for Tourism in the Maldives
PART II: SOCIALLY SUSTAINABLE PERSPECTIVES OF ISLAND TOURISM
7: Host and Guest Perceptions of Tourism Impacts in Island Settings: a Malaysian Perspective
8: Island Casino Development: an Antithesis of Socioculturally Sustainable Tourism. The cases of St Croix and Christmas Islands
9: Social Sustainability of Tourism in a Culture of Sensuality, Sexual Freedom and Violence:Trinidad and Tobago
10: Sustainable Host–Guest Interactions on Islands: Bruny and Magnetic Islands
11: Sustainable Tourism in High-latitude Islands:Shetland Islands
PART III: ECONOMICALLY SUSTAINABLE PERSPECTIVES OF ISLAND TOURISM
12: Rejuvenating Paradise: Changing Products, Changing Markets and Changing Visitor Behaviour in Mauritius
13: Sustainable Island Tourism: the Case of Okinawa
14: Tourism in Mediterranean Islands: a Comparative Analysis
15: Sustainable Tourism Transportation in Hawaii:a Holistic Approach
16: Planning for Sustainable Island Tourism Development in the Maldives
17: Conclusions and Implications for Sustainable IslandTourism
Reviews
One of the strengths of this book is the diversity and originality of many of the cases… (they) represent an interesting, informative and largely new collection of studies on island tourism. Tourism Recreation Research, Vol. 36(3), 2011 "Well-structured… the authors have picked an interesting perspective on a relevant subject, covered with solid empirical material from an impressive variety of important case studies… specific and solid advice on overcoming challenges." Island Studies Journal, Vol. 7 (1), 2012 "Provides the strongest and most constructive concluding analysis of any of the other books to date on the topic… well researched, argued, and written." Annals of Tourism Research, Vol. 39 (1), 2012
Jack Carlsen is Professor of Sustainable Tourism at Curtin University, Western Australia and Founder and Co-Director of the Curtin Sustainable Tourism Centre. He has an extensive research track record, which has produced more than 200 scholarly publications on various topics related to tourism planning, markets, development and evaluation. He was leader of the Sustainable Enterprises research program for the Sustainable Tourism Co-operative Research Centre and leader of the Technical Team that developed the Maldives Third Tourism Master Plan 2007-2011. His other books include The Family Business in Tourism and Hospitality (CABI 2004), Global Wine Tourism: Research, Management and Marketing (CABI 2006) and Innovation for Sustainable Tourism (Goodfellows Publishers, in press)
Richard Butler was educated at Nottingham University and the University of Glasgow (PhD Geography 1973), and spent thirty years at the University of Western Ontario in Canada as Professor and Chairman of the Department of Geography, and then the University of Surrey, where he was Professor of Tourism from 1997 to 2005. He is currently Emeritus Professor of International Tourism in the Strathclyde Business School, University of Strathclyde, Glasgow. He has published a large number of journal articles, fourteen books on tourism and many chapters in other books. His fields of interest are the development process of tourist destinations the impacts of tourism, carrying capacity and sustainability, and tourism in remote areas and islands.
Like most websites we use cookies. This is to ensure that we give you the best experience possible. Continuing to use
CABI.org
means you agree to our use of cookies. If you would like to, you can learn more about the cookies we use
here
.
Privacy Overview
This website uses cookies to improve your experience while you navigate through the website. Out of these, the cookies that are categorized as necessary are stored on your browser as they are essential for the working of basic functionalities of the website. We also use third-party cookies that help us analyze and understand how you use this website. These cookies will be stored in your browser only with your consent. You also have the option to opt-out of these cookies. But opting out of some of these cookies may affect your browsing experience.