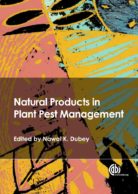 Natural Products in Plant Pest Management
Edited by: Nawal Kishore Dubey, Banaras Hindu University, India, Nawal Kishore Dubey, Banaras Hindu University, IndiaBy: Nawal Kishore Dubey, Banaras Hindu University, India

November 2010 | Hardback | 312 Pages | 9781845936716
November 2010 | ePDF 9781845937065 |
£105.00 | €132.80 | $198.30
Description
Overzealous and indiscriminate use of many synthetic pesticides during recent decades in the control of plant pests has resulted in a number of environmental and toxicological problems. Reducing the release of synthetic chemicals into the environment requires that alternative sources of chemicals are developed that can be used safely in the management of plant pests. Botanical antimicrobials derived from plants are currently recognised as biodegradable, systemic, eco-friendly and non-toxic to mammals and are thus considered safe. Their modes of action against pests are diverse. Natural compounds are well suited to organic food production in industrialised countries and can play greater roles in the protection of food crops in developing countries Some plant based antimicrobials (e.g. neem products, pyrethoids and essential oils) are already used to manage pest populations on a large scale. Plant scientists and agriculturists now devote significant attention to discovery and further development and formulation of novel plant products with antimicrobial activity.This book is the first to bring together relevant aspects of the basic and applied sciences of natural pesticides and discussed modern trends in the use of natural products in pest management.
Table of contents
1: Global Scenario on Application of Natural Products in Integrated Pest Management Programme
2: Plant Products in Control of Mycotoxins and Mycotoxigenic Fungi on Food Commodities
3: Natural Products from Plants: Commercial Prospects in Terms of Antimicrobial, Herbicidal and Bio-stimulatory Activities in an Integrated Pest Management System
4: Antimicrobials of Plant Origin to Prevent Biodeterioration of Grains
5: Some Natural Proteinaceous and Polyketide Compounds in Plant Protection and their Potential in Green Consumerisation
6: Natural Products as Allelo-Chemicals in Pest Management
7: Potency of Plant Products in Control of Virus Diseases of Plants
8: Phytochemicals as Natural Fumigants and Contact Insecticides Against Stored Product Insects
9: Prospectives of Large Scale Use of Natural Products as Alternatives to Synthetic Pesticides in Developing Countries
10: Current Status of Natural Products in Pest Management with Special Reference to Brassica carinata as Biofumigant
11: Fungal Endophytes: An Alternative Mycomines for Bioactive Compounds for Plant Protection
12: Suppressive Effects of Compost Tea on Phytopathogens
13: Biotechnology: A Tool for Natural Product Synthesis"
Reviews
contain(s) a wealth of useful information… a valuable contribution to the literature. Plant Pathology (2011) 60, 1184.
Like most websites we use cookies. This is to ensure that we give you the best experience possible. Continuing to use
CABI.org
means you agree to our use of cookies. If you would like to, you can learn more about the cookies we use
here
.
Privacy Overview
This website uses cookies to improve your experience while you navigate through the website. Out of these, the cookies that are categorized as necessary are stored on your browser as they are essential for the working of basic functionalities of the website. We also use third-party cookies that help us analyze and understand how you use this website. These cookies will be stored in your browser only with your consent. You also have the option to opt-out of these cookies. But opting out of some of these cookies may affect your browsing experience.