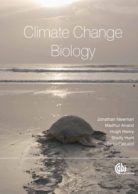 Climate Change Biology
By: Jonathan Newman, University of Guelph, Canada, Madhur Anand, School of Environmental Sciences, University of Guelph, Canada, Hugh Henry, Department of Biology, University of Western Ontario, Canada, Shelley Hunt, Department of Environmental Biology, University of Guelph, Canada, Ze'ev Gedalof, Department of Geography, University of Guelph, Canada
July 2011 | Paperback | 304 Pages | 9781845936709
July 2011 | Hardback | 304 Pages | 9781845937485
July 2011 | ePDF 9781780641072 |
Description
Climate change has moved from being a contested phenomenon to the top of the agenda at global summits. Climate Change Biology is the first major textbook to address the critical issue of how climate change may affect life on the planet, and particularly its impact on human populations. Presented in four parts, the first deals extensively with the physical evidence of climate change and various modelling efforts to predict its future. Biological responses are addressed in the second part, from the individual's physiology to populations and ecosystems, and further to considering adaptation and evolution. The third part examines the specific impact climate change may have on natural resources, agriculture and forestry. The final part considers research on the cutting edge of impact prediction and the practical and philosophical limitations on our abilities to predict these impacts. This text will be a useful asset to the growing number of both undergraduate and graduate courses on impacts of climate change, as well as providing a succinct overview for researchers new to the field.
Table of contents
Part I: Preliminaries
1: Putting it in Perspective: The Paleorecord and Climate Reconstructions
2: Projecting Future Climates
3: Methods for Studying the Impacts of Climatic Change
Part II: Impacts from Physiology to Evolution
4: Physiological Responses
5: Population Responses in Time and Space
6: Community Composition and Dynamics
7: Ecosystem Responses
8: Evolutionary Responses to Climatic Change
Part III: Applications
9: Responses by Soil Organisms
10: The Future of Forest Productivity
11: The Future of Agricultural Production
12: Impacts on Biodiversity
Part IV: Final Considerations
13: Multiple Stressors
14: The Limits of Science
Reviews
Provides some interesting perspectives…it will be very helpful for students in biology who are interested in aspects of climate change. Animal Feed Science and Technology 174 (2012) "A thorough and informative gateway to the field for graduate students and researchers." Trends in Ecology and Evolution, Vol. 27 (7), 2012.
Like most websites we use cookies. This is to ensure that we give you the best experience possible. Continuing to use
CABI.org
means you agree to our use of cookies. If you would like to, you can learn more about the cookies we use
here
.
Privacy Overview
This website uses cookies to improve your experience while you navigate through the website. Out of these, the cookies that are categorized as necessary are stored on your browser as they are essential for the working of basic functionalities of the website. We also use third-party cookies that help us analyze and understand how you use this website. These cookies will be stored in your browser only with your consent. You also have the option to opt-out of these cookies. But opting out of some of these cookies may affect your browsing experience.