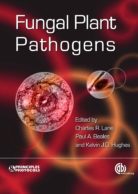 Fungal Plant Pathogens
Edited by: Charles Lane, The Food and Environment Research Agency (Fera), UK, Paul Beales, The Food and Environment Research Agency (Fera), UK, Kelvin Hughes, The Food and Environment Research Agency (Fera), UK
March 2012 | Paperback | 324 Pages | 9781845936686
Series : Principles and Protocols Series
Description
Covering the key techniques used when working with fungal plant pathogens, this practical manual deals with recognition of disease symptoms, detection and identification of fungi and methods to characterise them well as curation, quarantine and quality assurance. The book is unique in its practical focus, providing an overview of both traditional and emerging methods and their applications, and detailed protocols on completion techniques such as microscopy, PCR, ELISA, freeze drying and DNA storage. Fungal Plant Pathogens provides a valuable guide to investigating fungal plant diseases and interpreting laboratory findings for postgraduate and advanced undergraduate students, extension plant pathologists, consultants and advisers in agriculture and horticulture and the food supply chain.
Table of contents
1: Introduction to Fungal Plant Pathogens
2: Examination of Plant Material
3: Detection of Fungal Plant Pathogens from Plants, Soil, Water and Air
4: Detection of Fungal Plant Pathogens in Seeds
5: Identification of Fungi Based on Morphological Characteristics
6: Cultural Characterization
7: Serological Techniques for Diagnosis
8: Nucleic Acid-based Techniques for Diagnosis
9: Fingerprinting Techniques
10: Maintenance and Storage of Fungal Plant Pathogens
11: Quarantine Procedures for Working with Fungal Plant Pathogens
12: Quality Assurance and Quality Systems
Reviews
The book claims to be "unique in its practical focus",
and that statement can be endorsed. This is
a book that clearly merits a place in plant
health laboratories worldwide, and many of
numerous protocols included could be used
by technical staff or others without in-depth
plant pathological or mycological training. – IMA Fungus 4
Editor Bio
is a senior plant pathologist at the Food and Environment Research Agency based in York with over 20 years experience in the diagnosis of fungal plant pathogens. Following a Ph.D. investigating a mycoparasite of the cultivated mushroom he joined the plant pathology laboratory in Harpenden before moving to Yorkshire in 1996. Since then he has predominantly worked on the identification of quarantine fungi such as Colletotrichum acutatum, Monilinia fructicola, Alternaria mali and Phytophthora ramorum. He helped found the U.K.'s largest commercial Plant Clinic providing diagnostic services to growers and consultants both in the UK and overseas.
is a senior plant pathologist specialising in diagnostics of fungal diseases. Completing his PhD at the University of Hertfordshire on Rhododendron powdery mildew, he took up the role of plant disease diagnostician at the Food and Environment Research agency (Fera) where he has been for the past for 15 years, managing the plant clinic, seeds and export laboratory, electron microscopy suite and photographic services. He is a specialist in both indigenous and non-indigenous plant pathogens, identifying and discovering and researching new pathogens from around the world. He has a keen interest in Phytophthora and has developed many of the diagnostic methods used to identify Phytophthora ramorum, the cause of Sudden Oak Death in the USA. He was the first person to diagnose P. ramorum in the UK and discovered P.kernoviae, a newly described oomycete affecting rhododendron, other shrubby plants in woodland, heathland and trees. He is a sought after teacher and has spent time overseas training new European member states diagnosticians and inspectors in plant diseases and students around the UK in plant pathology.
Having completed his MSc. in Crop Protection with the University of Bath and Rothamsted Research, Kelvin Hughes obtained a PhD in Molecular methods for the detection of fungal plant pathogens with the University of Bristol. He has developed international standards for molecular diagnosis of the EC plant pathogens Tilletia indica, Monilinia fructicola and Colletotrichum acutatum as well as real-time field assays used by the UK Plant Health inspection service for Phytophthora kernoviae and P. ramorum. He also established Fera's ISTA accredited seed health laboratory and has represented the UK on quality assurance panels for the European Plant Protection Organisation (EPPO) and the International Standards Organisation (ISO). Having gained experience with numerous National Plant Protection Organisation including New Zealand MAF and the Kenyan Plant Health Inspection Service (KEPHIS), Dr. Hughes is currently Fera's Principal Plant Health and Seeds Inspector with national responsibility for the export of plants, plant products and seeds.
Like most websites we use cookies. This is to ensure that we give you the best experience possible. Continuing to use www.cabi.org means you agree to our use of cookies. If you would like to, you can learn more about the cookies we use here.