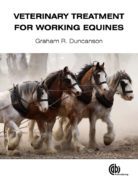 Veterinary Treatment for Working Equines
By: Graham R Duncanson, Westover Veterinary Centre, UK
June 2010 | Hardback | 296 Pages | 9781845936556
June 2010 | ePDF 9781845937188 |
£90.20 | €118.25 | $169.95
Description
There are an estimated 95 million equines working throughout the world, providing vital power and transport for many communities, especially in developing countries. Focusing on equines used to carry out working tasks such as pulling or carrying, as opposed to those used for riding or racing, this practical veterinary text details the specific treatment requirements to improve welfare of working horses, ponies, mules and donkeys. Chapters discuss diagnostic tests, equipment and medicines, anaesthesia, vaccines, nutrition, dentistry and ophthalmology, and all common conditions including those of heart, hoof and limb.
Table of contents
1: Vital Signs and Normal Values
2: Simple Diagnostic Tests
3: Behaviour and Restraint
4: Veterinary Equipment
5: Veterinary Medicines
6: Vaccines
7: Sedation, Field Anaesthesia and Euthanasia
8: Nutrition
9: Dentistry
10: Hoof Conditions and Problems Within the Hoof Capsule
11: Orthopaedics
12: Wounds
13: Respiratory, Cardiac and Blood Vessel Conditions
14: Gastro-Enteric Conditions
15: Neurological and Locomotory Conditions
16: Eye Conditions
17: Urinogenital Conditions
18: Poisons
19: Skin Condition
20: Harness and Tack
Reviews
The book covers a broad range of topics…provides a useful introduction… simple, pragmatic and accessible advice. Veterinary Record, 171, 2012 "(Explains) complex syndromes with easily understood terminology and basic solutions. An intriguing combination of historical information and factual content… I would recommend this book to anyone." Animal Welfare, Vol. 21, 2012
Like most websites we use cookies. This is to ensure that we give you the best experience possible. Continuing to use
CABI.org
means you agree to our use of cookies. If you would like to, you can learn more about the cookies we use
here
.
Privacy Overview
This website uses cookies to improve your experience while you navigate through the website. Out of these, the cookies that are categorized as necessary are stored on your browser as they are essential for the working of basic functionalities of the website. We also use third-party cookies that help us analyze and understand how you use this website. These cookies will be stored in your browser only with your consent. You also have the option to opt-out of these cookies. But opting out of some of these cookies may affect your browsing experience.