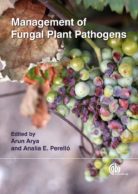 Management of Fungal Plant Pathogens
Edited by: Arun Arya, The Maharaja Sayajirao University of Baroda, India, Analiá Perelló, Universidad Nacional de La Plata, Argentina
February 2010 | Hardback | 400 Pages | 9781845936037
February 2010 | ePDF 9781845936044 |
£115.35 | €148.30 | $219.40
Description
This book reviews research into pathogenic fungi in a diverse selection of economically important crops, including fruits and cereals. The establishment and management of fungal plant diseases, using conventional and ecofriendly methods is discussed with an emphasis on the use of microorganisms and biotechnology. Chapters also examine the role of microbes in growth promotion, as bioprotectors and bioremediators and presents practical strategies for using microbes as well as botanicals in sustainable agriculture. Providing knowledge of plant-pathogen interactions, management strategies and techniques, this will be a useful resource for students, researchers and extension workers in biology and plant pathology.
Table of contents
Part One: Botanicals in Fungal Pest Management
1: Recent advances in management of fungal pathogens of fruit crops
2: Botanicals in agricultural pest management
3: Deleterious effects of fungi on post-harvest crops and their management strategies
4: Exploitation of botanicals in the management of phytopathogenic and storage fungi
5: Use of plant extracts as natural fungicides in the management of seed borne diseases
Part Two: Disease Control through Resistance
6: Resistance to Septoria leaf blotch in wheat
7: Barley and wheat resistance genes for Fusarium head blight
8: Sustainable management of rice blast [Magnaporthe grisea (Hebert) Barr]: 50 years of research progress in molecular biology
Part Three: Biological Control Mechanisms
9: Post-harvest technology- yeast as bio-control agents: Progress, problems and prospects
10: Biological control of plant diseases: An overview and the Trichoderma system as bio-control agent
11: Physiological specialization of Ustilaginales (smut) of Geheros Bromus, Zea and Triticum in Argentina.
Part Four: Endophytes in Plant Disease Control
12: Status and progress of research in endophytes from agricultural crops in Argentina
13: Effect of tillage systems on the arbuscular mycorrhizal fungi (AMF) propagule bank in soils
14: Mechanism of action in arbuscular mycorrhizal symbionts to control diseases caused by various fungal pathogens
15: Role of fungal endophytes in plant protection
Part Five: Managing Fungal Pathogens causing Leaf damage
16: The rust fungi: Systematics, diseases and their management
17: Etiology, epidemiology and management of fungal diseases of sugarcane
18: New and emerging fungal pathogens associated with leaf blight symptoms on wheat (Triticum aestivum) in Argentina.
19: A review of the fungal diseases of the annual legume crop of fenugreek (Trigonella foenum-graecum L.)
Reviews
Have you read this book, or used it for one of your courses? We would love to hear your feedback. Email our reviews team to submit a review.
is currently working as Professor and Head of Botany Department and Co-ordinator, B.Sc. Environmental Science Programme in The Maharaja Sayajirao University of Baroda. He is a Botanist, Phytopathologist, Philatelist and popular Science writer. He obtained his Doctorate from University of Allahabad in 1983. He has worked under the able guidance of Prof. B. Lal, Ex- Head Dept. of Botany and late Dr. Someshwar Nath Bhargava. He obtained diploma in the Elements of Marketing from Punjabi University Patiala. Dr. Arya started his teaching career as lecture in Microbiology at Gurkula Kangri University, Hardwar in 1985. He is teaching Botany at graduate and Post graduate classes since 1985. With the start of Seed Technology programme he was made coordinator in 2001. Dr. Arya is a recipient of Young scientist award of DST, New Delhi in 1986. He has worked as a senior research fellow and post doctoral research fellow of CSIR, New Delhi. He has successfully guided 2 Ph. Ds six more students are working under his guidance. He has completed numerous research projects funded by DST, CSIR, ICAR, DBT, ISRO, MoEF and UGC. He has published more than 100 research papers and 8 books.
Dr. Arun Arya is actively engaged in researches in the area of Plant Pathology, Fungal Taxonomy, Physiology and Biodeterioration. He has reported three new species of Phomopsis and several new fruit rot diseases. Possible control measures for these are suggested. For the first time different fungi have been reported by his research group from objects like paper, cloth and Egyptian mummy kept in Baroda Museum and Picture Gallery. Eco-friendly plant parts obtained from rhizome, leaf and flower extracts were used to control different fungal pathogens. He has studied the indoor aeromycoflora of different museums of Gujarat. He has presented his research findings in XV International Botanical Congress at Yokohama in Japan in 1993 and 12th World Forestry Congress in Qubec City Canada in 2003. He had an honour to co-chair a session on Eco-regions in this International Congress. He also presented two research papers in 9th International Phytopathological Congress in Torino, Italy.
Dr. Perello – co-editor of the book is Assistant Professor and Research Scientist at CONICET- CDEFI, and coordinator M.Sc. Vegetal Programme in Plant Pathology at National University of La Plata, Buenos Aires, Argentina. She has a vast teaching and research experience. She is currently working on different leaf infecting fungi and has helped to find out control of leaf spot diseases of wheat crop.
Like most websites we use cookies. This is to ensure that we give you the best experience possible. Continuing to use
CABI.org
means you agree to our use of cookies. If you would like to, you can learn more about the cookies we use
here
.
Privacy Overview
This website uses cookies to improve your experience while you navigate through the website. Out of these, the cookies that are categorized as necessary are stored on your browser as they are essential for the working of basic functionalities of the website. We also use third-party cookies that help us analyze and understand how you use this website. These cookies will be stored in your browser only with your consent. You also have the option to opt-out of these cookies. But opting out of some of these cookies may affect your browsing experience.