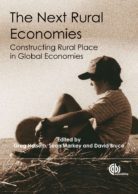 Next Rural Economies
Constructing Rural Place in Global Economies
Edited by: Greg Halseth, University of Northern British Columbia, Canada, Sean Markey, Simon Fraser University, Canada, David Bruce, Mount Allison University, Canada
December 2009 | Hardback | 320 Pages | 9781845935818
December 2009 | ePDF 9781845935825 |
£102.40 | €130.40 | $192.65
Description
Rural policy in industrialized countries is currently undergoing significant change. 'Place-based economies', where the unique attributes and assets of individual places determine their attractiveness for particular types of activities and investments, are increasingly important for rural development. The Next Rural Economies debates the future of rural development and highlights successes and failures to inform research, policy and community action. Case studies present discussions of the current state of rural community and economic restructuring and provide research and policy directions for constructing resilient and sustainable rural economies.
Table of contents
1: Introduction: The Next Rural Economies
a: Demographics, Migration, and Immigration
2: Something Old, Something New, Something Borrowed Something:::? Rediscovering the Comparative Advantage of the New Pastoral Economies of Northern New South Wales, Australia
3: The US Great Plains, Change, and Place Development
4: A New Rural North Carolina: Latino Place-Making and Community Engagement
5: Connecting Rural and Urban Places: Enduring Migration between Small Areas in England and Wales
6: Ontario's Greenbelt and Places to Grow Legislation: Impacts on the Future of the Countryside and the Rural Economy
b: Emerging Economies
7: Adding Value Locally through Integrated Rural Tourism: Lessons from Ireland
8: Value-Added Agricultural Products and Entertainment in Michigan's Fruit Belt
9: Rural Restructuring and the New Rural Economy: Examples from Germany and Canada
10: Nurturing the Animation Sector in a Peripheral Economic Region: The Case of Miramichi, New Brunswick
c: Rural Policy and Governance
11: Co-Constructing Rural Communities in the 21st Century: Challenges for Central Governments and the Research Community in Working Effectively with Local and Regional Actors
12: Partnerships, People, and Place: Lauding the Local in Rural Development
13: The Political Economies of Place in the Emergent Global Countryside: Stories from Rural Wales
d: Rural-Urban Exchange
14: Reviving Small Rural Towns in the Paris Periurban Fringes
15: When Rural-Urban Fringes Arise as Differentiated Place: The Socio-Economic Restructuring of Volvic Sources et Volcans, France
16: Rural Development Strategies in Japan
e: Renewal in Resource Peripheries
17: Heroes, Hope, and Resource Development in Canada's Periphery: Lessons from Newfoundland and Labrador
18: Fly-in, Fly-out Resource Development: A New Regionalist Perspective on the Next Rural Economy
19: Understanding and Transforming a Staples-Based Economy: Place-Based Development in Northern British Columbia, Canada
20: Space to Place: Bridging the Gap
Reviews
Have you read this book, or used it for one of your courses? We would love to hear your feedback. Email our reviews team to submit a review.
Like most websites we use cookies. This is to ensure that we give you the best experience possible. Continuing to use
CABI.org
means you agree to our use of cookies. If you would like to, you can learn more about the cookies we use
here
.
Privacy Overview
This website uses cookies to improve your experience while you navigate through the website. Out of these, the cookies that are categorized as necessary are stored on your browser as they are essential for the working of basic functionalities of the website. We also use third-party cookies that help us analyze and understand how you use this website. These cookies will be stored in your browser only with your consent. You also have the option to opt-out of these cookies. But opting out of some of these cookies may affect your browsing experience.