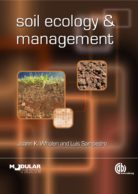 Soil Ecology and Management
By: Joann Whalen, McGill University, Canada, Luis Sampedro, Centro de Investigación Forestal de Lourizán, Spain
December 2009 | Paperback | 320 Pages | 9781845935634
December 2009 | ePDF 9781780640648 |
Description
Soil ecology is the study of interactions between the physio-chemical components of the soil and organisms living within the soil. Humans are highly dependent upon the soil ecosystem, which provides food, fiber, fuel and ecological services, such as the recycling of atmospheric gases. It is therefore important to understand the function and nature of the soil ecosystem in order to predict and mitigate the long term consequences of present day actions.

Soil Ecology and Management describes the organisms inhabiting the soil, their functions and interactions and the dimensions of human impact on the activity of soil organisms and soil ecological function. Chapters discuss basic soil characteristics and biogeochemical cycling, key soil flora and fauna, community-level dynamics (soil food webs) and the ecological and pedological functions of soil organisms. Unlike other soil biology and ecology textbooks, the authors also convey a better understanding of how human activities impact upon soil ecology in a section on ecosystem management and its effects on soil biota and provide a unique perspective on the utility of soil organisms.
Table of contents
1: Fundamental properties of the soil ecosystem
2: Characteristics of soil organic matter
3: Nutrient cycling: nitrogen, phosphorus and sulphur
4: Ecological and pedological functions of soil biota
5: Soil food webs
6: Soil biological diversity
7: Ecosystem management and soil biota
8: Soil biota as indicators of soil quality
Reviews
a valuable addition to existing soil ecology textbooks... Basic and Applied Ecology, 2011
Like most websites we use cookies. This is to ensure that we give you the best experience possible. Continuing to use
CABI.org
means you agree to our use of cookies. If you would like to, you can learn more about the cookies we use
here
.
Privacy Overview
This website uses cookies to improve your experience while you navigate through the website. Out of these, the cookies that are categorized as necessary are stored on your browser as they are essential for the working of basic functionalities of the website. We also use third-party cookies that help us analyze and understand how you use this website. These cookies will be stored in your browser only with your consent. You also have the option to opt-out of these cookies. But opting out of some of these cookies may affect your browsing experience.