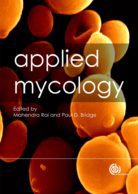 Applied Mycology
Edited by: Mahendra Rai, SGB Amravati University, India, Paul Bridge, retired from CABI, UK
August 2009 | Hardback | 336 Pages | 9781845935344
August 2009 | ePDF 9781845935351 |
£112.99 | €146.75 | $215.30
Description
The fungal kingdom consists of a wide variety of organisms with a diverse range of forms and functions. Fungi have been utilized for thousands of years and their importance in agriculture, medicine, food production and the environmental sciences is well known. New advances in genomic and metabolomic technologies have allowed further developments in the use of fungi in industry and medicine, increasing the need for a compilation of new applications, developments and technologies across the mycological field. Applied Mycology brings together a range of contributions, highlighting the diverse nature of current research. Chapters include discussions of fungal associations in the environment, agriculture and forestry, long established and novel applications of fungi in fermentation, the use of fungi in the pharmaceutical industry, the growing recognition of fungal infections, current interests in the use fungal enzymes in biotechnology and the new and emerging field of myconanotechnology. Demonstrating the broad coverage and importance of mycological research, this book will be of interest to researchers and students in all biological sciences.
Table of contents
1: Mycology: an Overlooked Megascience - David Hawksworth
I: Environment, Agriculture and Forestry
2: Arbuscular Mycorrhizal Fungi and Plant Symbiosis Under Stress Conditions: Ecological Implications of Drought, Flooding and Salinity - Ileana V. García and Rodolfo E. Mendoza
3: An Overview of Ochratoxin Research - János Varga, Sándor Kocsubé, Zsanett Péteri and Robert A. Samson
4: Improvement of Controlled Mycorrhiza Usage in Forest Nurseries - Robin Duponnois, D. Diouf. , A. Galiana and Y. Prin
5: Fungi in Tree Canopy: an Appraisal - K.R. Sridhar
6: Ecology of Endophytic Fungi Associated with Leaf Litter Decomposition - Takashi Osono and Dai Hirose
II: Food, Food Products and Medicine
7: Brewing Yeast in Action: Beer Fermentation - Pieter J. Verbelen1 and Freddy R. Delvaux
8: Genomic Adaptation of Saccharomyces cerevisiae to Inhibitors Involving Lignocellulosic Biomass Conversion to Ethanol - Zonglin Lewis Liu and Mingzhou Joe Song
9: Spoilage Yeasts and Other Fungi: Their roles in Modern Enology - M. Malfeito-Ferreira and V. Loureiro
10: Medicinal Potential of Ganoderma lucidum - Daniel Sliva
11: Current Advances in Dematiaceous Mycotic Infections - Sanjay Revankar
III: Biotechnology and Emerging Science
12: Biotechnological Aspects of Trichoderma spp. - A.M. Rincón, T. Benítez, A.C. Codón and M.A. Moreno-Mateos
13: Agrobacterium tumefaciens as a Molecular Tool for the Study of Fungal Pathogens - Carol M. McClell and and Brian L. Wickes
14: Myconanotechnology: a New and Emerging Science - Mahendra Rai, Alka Yadav, Paul Bridge, Aniket Gade
15: Current Advances in Fungal Chitinases - Duochuan Li and Anna Li
16: Extracellular Proteases of Mycoparasitic and Nematophagous Fungi - László Kredics, Sándor Kocsubé, Zsuzsanna Antal, Lóránt Hatvani, László Manczinger, Csaba Vágvölgyi
Reviews
Have you read this book, or used it for one of your courses? We would love to hear your feedback. Email our reviews team to submit a review.
Paul Dennis Bridge was previously Director of Bioservices at CABI, Head of Evolutionary Biology Group at British Antarctic Survey, and Kew Chair of Mycology at Birkbeck. He has 30 years history in practical microbial systematics in agricultural and environmental programmes. Author of over 150 scientific papers, chapters and reviews and co-editor for 10 books.
Like most websites we use cookies. This is to ensure that we give you the best experience possible. Continuing to use
CABI.org
means you agree to our use of cookies. If you would like to, you can learn more about the cookies we use
here
.
Privacy Overview
This website uses cookies to improve your experience while you navigate through the website. Out of these, the cookies that are categorized as necessary are stored on your browser as they are essential for the working of basic functionalities of the website. We also use third-party cookies that help us analyze and understand how you use this website. These cookies will be stored in your browser only with your consent. You also have the option to opt-out of these cookies. But opting out of some of these cookies may affect your browsing experience.