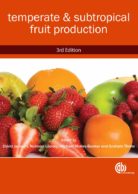 Temperate and Subtropical Fruit Production
3rd Edition
Edited by: David Jackson, formerly Lincoln University, New Zealand, Graham Thiele, Formerly Lincoln University, New Zealand, Norman Looney, Pacific Agri-Food Research Centre, Canada, Michael Morley-Bunker, Lincoln University, New Zealand
November 2010 | Paperback | 336 Pages | 9781845935016
Description
Effective fruit production requires general knowledge of fruit husbandry such as nutrition, propagation, pruning and training, effects of climate and crop protection as well as specific cultivation techniques for each fruit. Fully revised and expanded to include organic fruit production, this new edition provides a thorough introduction to the cultivation of fruit found throughout the temperate and subtropical regions of the world.
Table of contents
Part I: General Points on Fruit Husbandry
1: The Distribution of Fruits
2: Climate and Fruit Plants
3: Morphology and Growth of Woody Plants
4: Flowers and Fruit
5: Pruning and Training
6: Pruning and Training of Other Fruits
7: Producing and Marketing Quality Fruit
8: Use of Bioregulators in Fruit Production
9: Soils, Nutrients and Water
10: Crop Protection
11: Propagation of Fruit Plants
12: Machinery for Fruit Growing
Part II: Cultivation of Specific Fruits
13: Stonefruit
14: Pome Fruits
15: Grapes
16: Berry Fruit
17: Citrus
18: Kiwifruit
19: Subtropical Fruit
20: Miscellaneous Fruit Crops
21: Edible Nuts
Reviews
The chapter on bioregulators is an excellent example of what can be achieved...This will be a well-used practitioner's guide. ( The Journal of Experimental Agriculture, Vol.47 (3), 2011). "Authoritative crop husbandry science books based on first-hand knowledge and experience are rare. Here is one such volume! …Their text is simple, straightforward and interesting, and accompanied by excellent line diagrams…all serious horticulturists should have a copy on their bookshelves." (Journal of Agricultural Science, Vol.150, 2012) Praise for previous editions: "As an educational and reference text addressing the why, how and what to do in fruit growing, I recommend this book as a valuable introduction." G.S. Lawes, New Zealand Journal of Crop and Horticultural Science
A graduate of Lincoln College in the late 1950's, he joined the Department of Scientific and Industrial Research where he investigated aspects of tree growth, flowering, fruiting, and storage of apples, pears, peaches, apricots and nectarines. Between 1961 and 1964 he studied for a PhD at the Waite Institute in Adelaide. In 1968 he returned to Lincoln where he extended his research to include grape production and physiology. He is co-author of The Production of Grapes and Wine in Cool Climate Viticulture, Pruning and Training, and Edible Tree Nuts in New Zealand.
Now retired, Graham Thiele was Associate Professor in the Department of Horticulture at Lincoln University. He is a graduate of Massey and Lincoln Universities, and has a wide practical knowledge of fruit production. He joined the Ministry of Agriculture and Fisheries in 1952 as a cadet and later was an adviser in Motueka and Christchurch. He joined Lincoln University in 1962 and in 1967 was given the responsibility for developing new courses in horticulture economics and management. He has lectured and consulted internationally where his expertise in the systems approach to education, extention, and research has created considerable interest.
was Head of the Pomology and Viticulture Section at Summerland for more than 15 years. His service to national and international horticultural science includes being Chair of the Fruit Section of the International Society for Horticultural Science (1994-2000), President of the Canadian Society for Horticultural Science (1997-99; CSHS Life Membership awarded in 2002), President of the 24th International Horticultural Congress (2002), and President of the International Society for Horticultural Science (2002-2010; awarded Fellow of ISHS in 2006). Dr. Looney is also a Fellow of the American Society for Horticultural Science (1985). He owns and operates a peach orchard overlooking Okanagan Lake in interior British Columbia.
graduated in horticulture from Wye College, University of London. Between 1971 and 1978 he lectured in crop and horticultural sciences at the University of Swaziland and completed an MSc in Applied Plant Sciences with London University. His experience in southern Africa broadened his range beyond temperate fruit production. He emigrated to New Zealand and joined the staff of Lincoln University in 1978. He currently lectures in horticulture and viticulture and supervises postgraduate students. In his research he has worked with subtropical and temperate fruits including kiwifruit, pepino, persimmon, feijoa, raspberry, strawberry, apples and pears. He has worked on sabbatical leave in Australia and the USA. Recently he visited and lectured in universities in China.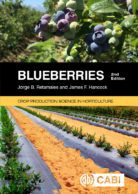 Blueberries
By: Jorge Retamales, James Hancock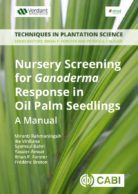 Nursery Screening for Ganoderma Response in Oil Palm Seedlings
By: Miranti Rahmaningsih, Ike Virdiana, Syamsul Bahri, Yassier Anwar, Brian Forster, Frédéric Breton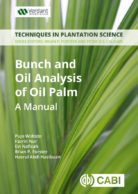 Bunch and Oil Analysis of Oil Palm
By: Pujo Widodo, Fazrin Nur, Evi Nafisah, Brian Forster, Hasrul Abdi Hasibuan
Like most websites we use cookies. This is to ensure that we give you the best experience possible. Continuing to use www.cabi.org means you agree to our use of cookies. If you would like to, you can learn more about the cookies we use here.