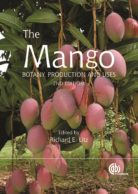 Mango
Botany, Production and Uses
2nd Edition
Edited by: Richard Litz, University of Florida, USA
April 2009 | Hardback | 696 Pages | 9781845934897
April 2009 | ePDF 9781845934903 |
Series : Botany, Production and Uses
£164.15 | €215.30 | $316.65
Description
The Mango is one of the oldest cultivated fruit crops, having been grown in India for at least 4000 years. Mango is the most important fruit crop of Asia and its annual production is exceeded worldwide only by Musa, citrus, grapes and apples. The last decade has seen a rapid growth of mango production, mainly due to expansion into new growing regions but also to the adoption of modern field practices and cultivars. A wide range of fresh, mango cultivars are now consumed worldwide and are available year round. The Mango: Botany, Production and Uses, published in 1997, represented the first comprehensive examination of all aspects of modern mango production and research. Developing upon the successful first edition, this book incorporates a discussion of significant advances in mango research that have contributed to improved production and will be highly relevant for researchers and growers alike.
Table of contents
1: Botany and Importance S K Mukherjee (deceased) and R E Litz
2: Taxonomy and Systematics J M Bompard
3: Important Mango Cultivars and Their Descriptors R J Knight, Jr., R J Campbell and I Maguire
4: Breeding and Genetics C P A. Iyer and R J Schnell
5: Reproductive Physiology T L Davenport
6: Ecophysiology B Schaffer, L Urban, P Lu and A W Whiley
7: Fruit Diseases D Prusky , I Kobiler, I Miyara and N Alkan
8: Foliar, Floral and Soilborne Diseases R C Ploetz and S Freeman
9: Physiological Disorders V Galan Sauco
10: Pests J E Peña, M Aluja and M Wysoki
11: Crop Production: Propagation S Ram (deceased) and R E Litz
12: Crop Production: Mineral Nutrition I S E Bally
13: Crop Production: Management J H Crane, S Salazar-García, T-S Lin, A C de Queiroz Pinto and Z-H Shü
14: Postharvest Physiology J K Brecht and E M Yahia
15: Postharvest Technology and Quarantine Treatments G I Johnson and P J Hofman
16: World Mango Trade and the Economics of Mango Production E A Evans and O J Mendoza
17: Fruit Processing L C Raymundo, M T Ombico and T M de Villa 18. Biotechnology R E Litz, M A Gomez Lim and U Lavi
Reviews
Have you read this book, or used it for one of your courses? We would love to hear your feedback. Email our reviews team to submit a review.
Richard Litz is a professor emeritus in the Department of Horticultural Sciences of the University of Florida. From 1976 until his retirement in 2011, he was at the Tropical Research and Education Center in Homestead, where he developed and led a research programme that focused on biotechnology of tropical fruit crops, e.g., avocado, carambola, litchi, longan, mango and papaya. His laboratory hosted postgraduate students, postdoctoral fellows and visiting scientists from 16 countries in the tropics and subtropics of the Americas, Africa and Asia. He has edited seven books about biotechnology of fruit crops and also about mango and has authored more than 150 refereed publications and book chapters. In retirement, Richard lives in a village on the coast of Maine.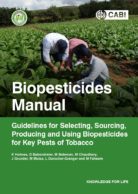 Biopesticides Manual
By: Keith A Holmes, Dirk Babendreier, Melanie Bateman, Malvika Chaudhary, Julien Grunder, Margaret Mulaa, Léna Durocher-Granger, Muhammad Faheem
From
£25.65 | €32.80 | $41.00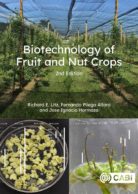 Biotechnology of Fruit and Nut Crops
Edited by: Richard Litz, Fernando Pliego-Alfaro, Jose Ignacio Hormaza
From
£199.90 | €261.40 | $328.00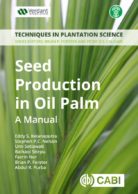 Seed Production in Oil Palm
By: Eddy S Kelanaputra, Stephen P. C. Nelson, Umi Setiawati, Baihaqi Sitepu, Fazrin Nur, Brian Forster, Abdul R. Purba
From
£20.50 | €25.65 | $30.75
Like most websites we use cookies. This is to ensure that we give you the best experience possible. Continuing to use
CABI.org
means you agree to our use of cookies. If you would like to, you can learn more about the cookies we use
here
.
Privacy Overview
This website uses cookies to improve your experience while you navigate through the website. Out of these, the cookies that are categorized as necessary are stored on your browser as they are essential for the working of basic functionalities of the website. We also use third-party cookies that help us analyze and understand how you use this website. These cookies will be stored in your browser only with your consent. You also have the option to opt-out of these cookies. But opting out of some of these cookies may affect your browsing experience.