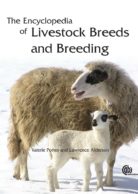 Mason's World Encyclopedia of Livestock Breeds and Breeding: 2 volume pack
By: Valerie Porter, Livestock Author, West Sussex, UK, Lawrence Alderson, International Consultant on animal genetic resources and Chairman of Countrywide Livestock Ltd., UK, Stephen Hall, Livestock Diversity Ltd., UK, D. Phillip Sponenberg, Virginia Tech, USA
March 2016 | Hardback | 9781845934668
$978.50 | £592.25 | €772.50
Description
Mason's World Encyclopedia of Livestock Breeds and Breeding describes breeds of livestock worldwide as well as a range of breed-related subjects such as husbandry, health and behaviour. This definitive and prestigious reference work presents easily accessible information on domestication (including wild ancestors and related species), genetics and breeding, livestock produce and markets, as well as breed conservation and the cultural and social aspects of livestock farming. Written by renowned livestock authorities, these volumes draw on the authors' lifelong interest and involvement in livestock breeds of the world, presenting a unique, comprehensive and fully cross-referenced guide to cattle, buffalo, horses, pigs, sheep, asses, goats, camelids, yak and other domesticants.

Volume 1: contains asses, camelids, cattle, goats, horses and pigs
Volume 2: contains sheep, water buffalo, yak and other livestock

Coverage:
Breed descriptions: including groups, types and varieties, history and links between groups, livestock products and trends for creating new breeds
Wild species: ancestral and relatives, potential domesticants and hybridization
Humans and breeds: spread of domestication, transhumance and pastoralism, social and cultural influences, suitability of different groups for different human purposes
Genetics and Conservation: a dedicated section and glossary of terms

Placing breeds in a practical agricultural context, this two volume encyclopedia will be of great value to agriculturalists, breeders, geneticists, biologists, rural historians, conservationists, ecologists, and all those who are interested in the rich diversity of livestock breeds.
Table of contents
1:: Preface
2:: Introduction
3:: Genetics, Breeding and Conservation
4:: Asses
5:: Camelids
6:: Cattle
7:: Goats
8:: Horses
9:: Pigs
10:: Sheep
11:: Water Buffalo
12:: Yak
13:: Other Livestock
Reviews
"For those who are not from an animal breeding or genetics background and have a general interest in livestock breeds there is an excellent introductory chapter on breeding, genetics and conservation [...] with a details glossary of terms [which] explains complex terms in an easy to understand way." - Alan Fahey, Journal of Agricultural Science (2017), 155, 191 - Alan Fahey
Editor Bio
Lawrence Alderson was born in Yorkshire on a Pennine hill farm, which followed a largely self-contained semi-organic system with pedigree livestock. He holds a degree in agricultural science from Cambridge University, with a post-graduate qualification in genetics, and during his time at there also served as President of the Cambridge University Agricultural Society.

Alderson began his career lecturing in agricultural colleges, with a special interest in animal breeding and business management, before establishing his own company (Countrywide Livestock Ltd). As the owner of farms in Hampshire, Wiltshire and Northumberland, he has hands-on experience with rare equine, bovine and ovine breeds, and went on to found both Rare Breeds International and the Rare Breed Survival Trust. He has written extensively on rare breeds and genetic conservation throughout his career, including Mason's World Encyclopedia of Livestock Breeds and Breeding. In 2004 was recognised for his services to conservation with a CBE.

Formerly a member of the Defra FAnGR committee and delegate to ERFP (European Regional Focal Point) meetings, he is an international consultant on the conservation of animal genetic resources.
Like most websites we use cookies. This is to ensure that we give you the best experience possible. Continuing to use www.cabi.org means you agree to our use of cookies. If you would like to, you can learn more about the cookies we use here.