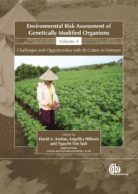 Environmental Risk Assessment of Genetically Modified Organisms, Vol 4
Challenges and Opportunities with Bt Cotton in Vietnam
Edited by: David Andow, University of Minnesota, USA, Angelika Hilbeck, Swiss Federal Institute of Technology ETHZ, Switzerland, Van Tuat Nguyen, Food Crops Research Institute, Vietnam
July 2008 | Hardback | 384 Pages | 9781845933906
$210.05 | £110.20 | €143.15
Description
Within Vietnam, the environmental risks of transgenic plants, managing transgenic products safely, and building modern labs to assess their safety has received increased investment and research. This book is the first scientific effort to synthesize information relevant to GM crops in Vietnam, taking Bt cotton as an example. It can be used as a technical manual to enable Vietnamese scientists to evaluate the potential environmental impacts of Bt cotton varieties prior to commercialization, and provides guidance for environmental risk assessment of any transgenic crop.
Table of contents
1: Background on Cotton in Vietnam
2: Problem Formulation and Options Assessment PFOA
3: Transgene Expression and Locus Structure
4: Introduction to Non-target Asseessments
5: Non-target Herbivores
6: Predators
7: Parasitoids
8: Pollinators
9: Soil Processes
10: Soil Macroorganisms
11: Summary of Biodiversity and Non-target Assessment
12: Gene Flow and Consequences
13: Resistance Risk and Management
Reviews
Have you read this book, or used it for one of your courses? We would love to hear your feedback. Email our reviews team to submit a review.
Like most websites we use cookies. This is to ensure that we give you the best experience possible. Continuing to use www.cabi.org means you agree to our use of cookies. If you would like to, you can learn more about the cookies we use here.