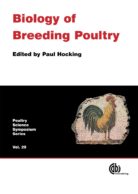 Biology of Breeding Poultry
Edited by: Paul Hocking, Formerly The Roslin Institute and Royal (Dick) School of Veterinary Studies, UK
May 2009 | Hardback | 480 Pages | 9781845933753
Series : Poultry Science Symposium Series
$224.50 | £117.50 | €150.50
Description
This book reviews the biological science and background to breeding meat poultry, specifically broiler, turkey and duck. These commercial birds have been changed by genetic selection to such an extent that they are substantially different from traditional breeds and laying hens. Covering science, management and husbandry systems, this comprehensive text provides the most up to date collection of papers on the topic from a range of international experts.
Table of contents
I: State of the Art
1: Genetic Progress and Achievements
2: Breeder Husbandry
II: Genetic Improvement
3: Quantitative Genetics and QTL
4: Potential of Transgenics, ESTs and PGCs
5: Sex Determination
III: Physiology of Reproduction
6: Endocrinology and Genetics of the HPA Axis
7: Control of Follicular Development
8: Endocrinology of Male Reproduction
IV: Mating Behaviour and Fertility
9: Sperm Competition and Female Fertility
10: Semen Quality and Semen Storage
V: Incubation and Hatching
11: Broodiness and Broody Control
12: Hatching Egg and Chick Quality
VI: Managing the Environment
13: Photoperiod and Control of Breeding
14: Behaviour in Meat Breeding Birds
15: Ratites and minor Poultry Species
VII: Nutrition of Breeding Birds
16: Feed Restriction
17: Protein and Amino Acid Responses
18: Practical Breeder Nutrition
19: Vitamins, Minerals and Micronutrients
VIII: Health and Welfare
20: Vaccination: Theory and Practice
21: Immune Protection of the Hatchling
22: Managing Current Disease Challenges
Reviews
Have you read this book, or used it for one of your courses? We would love to hear your feedback. Email our reviews team to submit a review.
Like most websites we use cookies. This is to ensure that we give you the best experience possible. Continuing to use www.cabi.org means you agree to our use of cookies. If you would like to, you can learn more about the cookies we use here.