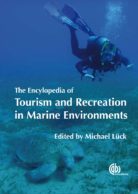 Encyclopedia of Tourism and Recreation in Marine Environments
Edited by: Michael Lück, AUT University Auckland, New Zealand
May 2008 | Hardback | 880 Pages | 9781845933500
February 2010 | ePDF 9781845937294 |
£127.20 | €160.15 | $243.05
Description
Marine tourism has become one of the fastest growing areas within the tourism industry. With the increased use of marine environments comes the need for informed planning and sustainable management as well as for the education and training of planners, managers and operators. Combining the disciplines of marine scientists and tourism researchers, this encyclopedia will bring together the terms, concepts and theories related to recreational and tourism activities in marine settings. Entries range from short definitions to medium and long articles.
Table of contents
1: Acknowledgements
2: Alphabetical Entries
3: References
4: Further Reading
Reviews
Have you read this book, or used it for one of your courses? We would love to hear your feedback. Email our reviews team to submit a review.
– Michael Lück is a professor in the School of Hospitality and Tourism, and associate director for the coastal and marine tourism research programme at the New Zealand Tourism Research Institute, both at Auckland University of Technology, New Zealand. He is founding co-chair of the International Coastal & Marine Tourism Society (ICMTS). Michael has more than 10 years work experience in the tourism industry and his research interests include (marine) wildlife tourism, the cruise industry, ecotourism, interpretation and education on wildlife tours, the impacts of tourism, and aviation/transport. He has published in a number of international journals, is founding editor-in-chief of the academic journal Tourism in Marine Environments, Associate Editor of the Journal of Ecotourism and Human Dimensions of Wildlife, and editorial board member of Marine Policy and Frontiers. Michael has edited or co-edited ten volumes on ecotourism, marine and polar tourism, events and low cost airlines, as well as the Encyclopedia of Tourism and Recreation in Marine Environments (CABI), and co-authored the introductory text Tourism (CABI).
Like most websites we use cookies. This is to ensure that we give you the best experience possible. Continuing to use
CABI.org
means you agree to our use of cookies. If you would like to, you can learn more about the cookies we use
here
.
Privacy Overview
This website uses cookies to improve your experience while you navigate through the website. Out of these, the cookies that are categorized as necessary are stored on your browser as they are essential for the working of basic functionalities of the website. We also use third-party cookies that help us analyze and understand how you use this website. These cookies will be stored in your browser only with your consent. You also have the option to opt-out of these cookies. But opting out of some of these cookies may affect your browsing experience.