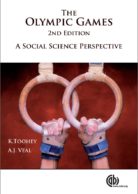 Olympic Games
A Social Science Perspective
2nd Edition
By: Kristine Toohey, School of Leisure and Tourism Studies, University of Technology, Sydney, Australia, A.J. Veal, University of Technology Sydney, Australia
November 2007 | Hardback | 368 Pages | 9781845933463
November 2007 | Paperback | 368 Pages | 9780851998091
November 2007 | ePDF 9781845933555 |
£90.20 | €118.25 | $169.95
Description
This 2nd edition of a highly successful book (published in 2000) provides a comprehensive, critical analysis of the Olympic Games using a multi-disciplinary social science approach. This revised edition contains much new data relating to the Sydney 2000 Games and their aftermath; and preparations for Athens 2004 and Beijing 2008 Games. The book is broad-ranging and independent in its coverage, and includes the use of drugs, sex testing, accusations of power abuse among members of the IOC, the Games as a stage for political protest, media-related controversies, economic costs and benefits of the Games and historical conflicts between organizers and host communities.
Table of contents
1: Introduction: Studying the Olympic Games
2: The Ancient Olympics and their Relevance to the Modern Games
3: The Revival of the Olympic Games
4: The Modern Olympic Phenomenon
5: Politics, Nationalism and the Olympic Movement
6: The Economics and Financing of the Games
7: The Olympics and the Mass Media
8: Doping and the Olympics
9: Women and the Olympic Games
10: Case Studies of the Summer Olympic Games
11: The Future of the Olympic Games
Reviews
This book acts as an introduction to the subject for sports studies students as well as events undergraduates and suggests further avenues of study in relation to the Olympic Games from a social science perspective... Leisure Studies, 2008 Reviews for the first edition: "This is probably the best single source for social science, leisure studies and sports management students following courses or modules that deal with the games". Leisure Studies "Toohey's and Veal's excellent book should be put on the reading list of every sports course in English-speaking universities....." International Review for the Sociology of Sport
is Adjunct Professor in the School of Leisure, Sport and Tourism in the University of Technology Sydney, Australia, and worked previously in the universities of Birmingham and North London. He is past president of the Australian and New Zealand Association for Leisure Studies (ANZALS) and of the UK Leisure Studies Association. His is author or joint author/ editor of a number of books, including: Leisure, Sport and Tourism, Politic, Policy and Planning (3rd edn, CABI, 2010); The Olympic Games; A Social Science Perspective (2nd edn, CABI, 2007); A Handbook of Leisure Studies (Palgrave-Macmillan, 2006); Research Methods for Leisure and Tourism (3rd edn, FT/Prentice Hall, 2006); Free Time and Leisure Participation: International Perspectives (2nd edn, CABI, 2005); Australian Leisure (3rd edn, Longman, 2006); and Work and Leisure (Routledge, 2004); .
Like most websites we use cookies. This is to ensure that we give you the best experience possible. Continuing to use
CABI.org
means you agree to our use of cookies. If you would like to, you can learn more about the cookies we use
here
.
Privacy Overview
This website uses cookies to improve your experience while you navigate through the website. Out of these, the cookies that are categorized as necessary are stored on your browser as they are essential for the working of basic functionalities of the website. We also use third-party cookies that help us analyze and understand how you use this website. These cookies will be stored in your browser only with your consent. You also have the option to opt-out of these cookies. But opting out of some of these cookies may affect your browsing experience.