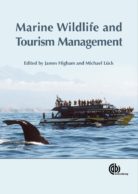 Marine Wildlife and Tourism Management
Edited by: James Higham, University of Otago, New Zealand, Michael Lück, AUT University Auckland, New Zealand
December 2007 | Hardback | 416 Pages | 9781845933456
December 2007 | ePDF 9781845933470 |
$198.30 | £105.00 | €132.80
Description
Marine environments have long been places of exploration, subsistence, transport and trade, but it is only recently that marine tourism has extended beyond coastal resorts and beaches. Demand for marine wildlife experiences has grown considerably in recent decades but a corresponding increase in the conservation of these environments as well as adequate legislative and management responses aimed at sustainability has not yet followed. This book demonstrates that through scientific approaches to understanding and managing tourist interactions with marine wildlife, sustainable marine tourism can be achieved. Drawing from disciplines such as marine and conservation biology and behavioural ecology, the effects of human disturbance on marine wildlife as well as management approaches to moderate these impacts are explored. Social science perspectives are also used to understand consumer demand and the ethical and legislative problems that this demand creates. This comprehensive volume provides valuable insights for both researchers and practitioners in marine conservation and tourism.
Table of contents
1: Marine Wildlife and Tourism Management: In Search of Scientific Approaches to Sustainability
Part I: Demand for Marine Wildlife Tourism
2: Marine Wildlife Tours: Benefits for Participants
3: Shark! A New Frontier in Tourist Demand for Marine Wildlife
4: Tourist Interactions with Sharks
5: Human–Polar Bear Interactions in Churchill, Manitoba: The Socio-ecological Perspective
6: Specialization of Whale Watchers in British Columbia Waters
7: Captive Marine Wildlife: Benefits and Costs of Aquaria and Marine Parks
Part II: The Impacts of Tourist Interactions with Marine Wildlife
8: The Economic Impacts of Marine Wildlife Tourism
9: Effects of Human Disturbance on Penguins: The Need for Site- and Species-specific Visitor Management Guidelines
10: Impacts of Tourism on Pinnipeds and Implications for Tourism Management
11: Understanding the Impacts of Noise on Marine Mammals
12: Shooting Fish in a Barrel: Tourists as Easy Targets
Part III: The Legislative and Ethical Contexts
13: Marine Wildlife Tourism Management: Mandates and Protected Area Challenges
14: Marine Wildlife Tourism and Ethics
15: Protecting the Ocean by Regulating Whale Watching: The Sound of One Hand Clapping
16: Wildlife and Tourism in Antarctica: A Unique Resource and Regime for Management
Part IV: Marine Wildlife and Tourism Management
17: Managing the Whale- and Dolphin-watching Industry: Time for a Paradigm Shift
18: Managing Marine Wildlife Experiences: The Role of Visitor Interpretation Programmes
19: Marine Wildlife Viewing: Insights into the Significance of the Viewing Platform
20: New Frontiers in Marine Wildlife Tourism: An International Overview of Polar Bear Tourism Management Strategies
21: Marine Wildlife and Tourism Management: Scientific Approaches to Sustainable Management
Reviews
Have you read this book, or used it for one of your courses? We would love to hear your feedback. Email our reviews team to submit a review.
– Michael Lück is a professor in the School of Hospitality and Tourism, and associate director for the coastal and marine tourism research programme at the New Zealand Tourism Research Institute, both at Auckland University of Technology, New Zealand. He is founding co-chair of the International Coastal & Marine Tourism Society (ICMTS). Michael has more than 10 years work experience in the tourism industry and his research interests include (marine) wildlife tourism, the cruise industry, ecotourism, interpretation and education on wildlife tours, the impacts of tourism, and aviation/transport. He has published in a number of international journals, is founding editor-in-chief of the academic journal Tourism in Marine Environments, Associate Editor of the Journal of Ecotourism and Human Dimensions of Wildlife, and editorial board member of Marine Policy and Frontiers. Michael has edited or co-edited ten volumes on ecotourism, marine and polar tourism, events and low cost airlines, as well as the Encyclopedia of Tourism and Recreation in Marine Environments (CABI), and co-authored the introductory text Tourism (CABI).
Like most websites we use cookies. This is to ensure that we give you the best experience possible. Continuing to use www.cabi.org means you agree to our use of cookies. If you would like to, you can learn more about the cookies we use here.