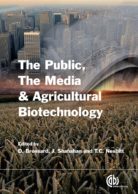 Public, the Media and Agricultural Biotechnology
Edited by: Dominique Brossard, University of Wisconsin-Madison, USA, Thomas Nesbitt, USDA-APHIS Biotechnology Regulatory Services Riverdale, USA, James Shanahan, Boston University, USA
May 2007 | Hardback | 405 Pages | 9781845932046
May 2007 | ePDF 9781845932053 |
£112.99 | €146.75 | $215.30
Description
This book reviews the literature on communication about biotechnology. Other books deal with this topic, however this book with the use of case studies, looks at public opinion data, communication theory, and international examples; to provide a complementary overview of how the public sees this controversial topic.
Table of contents
1: Perspectives on communication about agricultural biotechnology.
2: Public perceptions of agricultural biotechnology in Britain : the case of genetically modified foods
3: German reactions to genetic engineering in food production
4: Mass media and public perceptions of red and green biotechnology. A case study from Switzerland
5: Genetically Modified Foods: U.S. Public Opinion Research Polls.
6: Biotechnology and consumer information
7: What do Brazilians think about transgenics?
8: Where do science debates come from? Understanding attention cycles and framing
9: Opinion climates, spirals of silence, and biotechnology; Public opinion as a heuristic for scientific decision-making
10: The hostile media effect and opinions about biotechnology
11: Risk communication, risk beliefs, and democracy: The case of agricultural biotechnology
12: The GEO-PIE Project: Case study of web-based outreach at Cornell University , USA
13: Governing controversial technologies: Consensus conferences as a communication tool
14: The Bt corn experience in the Philippines : A multi-stakeholder convergence
15: Food aid crisis and communication about GM foods: Experience from Southern Africa
16: Approval process and adoption of Bollgard Cotton in India : A private company perspective
Reviews
Have you read this book, or used it for one of your courses? We would love to hear your feedback. Email our reviews team to submit a review.
Like most websites we use cookies. This is to ensure that we give you the best experience possible. Continuing to use
CABI.org
means you agree to our use of cookies. If you would like to, you can learn more about the cookies we use
here
.
Privacy Overview
This website uses cookies to improve your experience while you navigate through the website. Out of these, the cookies that are categorized as necessary are stored on your browser as they are essential for the working of basic functionalities of the website. We also use third-party cookies that help us analyze and understand how you use this website. These cookies will be stored in your browser only with your consent. You also have the option to opt-out of these cookies. But opting out of some of these cookies may affect your browsing experience.