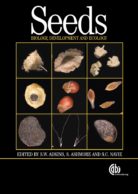 Seeds
Biology, Development and Ecology
Edited by: Stephen Adkins, The University of Queensland, Australia, Sarah Ashmore, Centre for Forestry and Horticultural Research, Griffith University, Queensland, Australia, Sheldon Navie, University of Queensland, Australia
February 2007 | Hardback | 496 Pages | 9781845931971
February 2007 | ePDF 9781845931988 |
£136.15 | €180.50 | $259.75
Description
Substantial progress has been made in seed science during the past few years, emphasizing its important role in advancing plant biotechnology, agriculture, plant resource management, and conservation. Providing comprehensive coverage of the latest seed science research including germination, dormancy, development, and desiccation tolerance, this book also details the most advanced methods and practices in seed biology, ecology and technology.
Table of contents
1: Desiccation Tolerance in the -omics Era: New Tools for an Old Enigma?
2: Recent Progress Towards the Understanding of Desiccation Tolerance
3: Gene-expression in Relation to Seed Development and Longevity
4: The Influence of Harvest Method on Seed Yield, Seed Size and Germination Capacity of Bulbine bulbosa (R. Br.) Haw. (Liliaceae)
5: Alterations in Gene Expression and DNA During Loss and Re-establishment of Desiccation Tolerance in Germinating and Germinated Medicago truncatula Seeds.
6: ASP53, a 53 kDa Cupin-containing Protein with a Dual Role: Storage Protein and Thermal Protectant
7: Possible Involvement of Programmed Cell Death Events During Accelerated Ageing of Glycine max Axes
8: Storage and Germination Response of Recalcitrant Seeds Subjected to Mild Dehydration
9: Immunocytochemical Localisation of β-1,3-Glucanase in Wet-stored Recalcitrant Seeds of Avicennia marina Infected by Fusarium moniliforme
10: Seed Development Transporting into the Post-genomic Era
11: Biogenesis of the Compound Seed Protein Storage Vacuole
12: Embryo Development and Time of Cutting in Cool Temperate Carrot Seed Crops
13: Seed Biotechnology: Translating Promise into Practice
14: Stress Inducible Gene Expression and its Impact on Seed and Plant Performance: a Microarray Approach
15: The Use of Proteome and Transcriptome Profiling in the Understanding of Seed Germination and Identification of Intrinsic Markers Determining Seed Quality, Germination Efficiency and Early Seedling Vigour
16: A 'Seed-GUS-Expression' Enhancer-Trap Library for Germination Research
17: Betaomics: a Combined Proteome and Transcriptome Profiling Approach to Characterize Seed Germination and Vigour in Sugarbeet Seeds
18: Cell Cycle Activity, Membrane Integrity and Germination of Matriconditioned Lentil (Lens culinaris Medik.) Seeds
19: Are Dormant Seeds Lazy and Germinating Seeds Not?
20: Emerging and Established Model Systems for Endosperm Weakening
21: Dormancy Classification and Potential Dormancy-Breaking Cues for Shrub Species from Fire-Prone South-Eastern Australia
22: QTLs, Epistasis, and Other Interactions Associated with Dormancy in Weedy Rice (Oryza sativa L.)
23: Differences in the Lolium rigidum Embryo Proteome of Seeds with a High (Light-insensitive) and Low (Light-sensitive) Level of Dormancy
24: Transcriptomic and Proteomic Profiling of FsPP2C1-overexpressing Arabidopsis Plants
25: Constitutive Expression of a Fagus ABA-Induced PP2C (FsPP2C2) in Arabidopsis Suggests Interactions Between ABA and GAs in Seed Dormancy
26: Nucleotide Triphosphate Synthesis and Energy Metabolism in Primary Dormant and Thermodormant Oat Seeds
27: Dormancy and Germination in Eucalyptus globulus Seeds
28: The Effect of Hydropriming on Germination Barriers in Triploid Watermelon Seeds
29: Molecular Mechanisms of Protein Degradation in Germinating Seeds
31: A Role for Reactive Oxygen Species in Endosperm Weakening
31: Characterization of a Dioxygenase Gene with a Potential Role in Steps Leading to Germination of the Root Parasite Orobanche aegyptiaca
32: Computer Imaging to Assess Seed Germination Performance
33: Development of a Sequential Digital Imaging System for Evaluating Seed Germination
34: Seed Quality and Germination
35: Effects of Bean Seed Production Conditions on Germination and Hypocotyl Elongation Responses to Temperature and Water Potential
36: A Model of Seed Dormancy in Wild Oats (Avena fatua) for Investigating Genotype ? Environment Interactions
37: Seed microRNA Research
38: Temporal Fulfilment of the Light Requirement for Seed Germination: An Example of its Use in Management of Rare Species
39: Assisted Natural Recovery Using a Forest Soil Propagule Bank in the Athabasca Oil Sands
40: The Effect of Light Intensity on Seed Production and Quality in a Number of Australian Wild Oat (Avena fatua L.) Lines
41: Seed Ecology of Apiaceae Weeds in Pyrethrum
42: Plant Dispersal Strategies, Seed Bank Distribution and Germination of Name Negev Type Desert Species
43: Seed Biology of Tropical Australian Plants
Reviews
Have you read this book, or used it for one of your courses? We would love to hear your feedback. Email our reviews team to submit a review.
Professor Steve Adkins is Professor of Plant Physiology at The University of Queensland (UQ). He obtained a degree in Botany and Zoology from the University of London and a PhD in weed physiology from the University of Reading in England in 1981 and has served as a postdoctoral fellow at the University of Saskatchewan, Saskatoon in Canada (1981-84) and at Murdoch University, Perth, Australia (1984-88). He joined UQ in 1988 and has spent the last 30 years studying various tropical and subtropical crops and pastures, their weeds and the native plant community. Steve has held several leadership roles at UQ since 2010, including Deputy Director and Acting Director in the UQ Centre for Plant Architectural Informatics. In these roles, he has led initiatives that have improved teaching quality and the student experience, instituted guidelines and funding schemes for supporting the career development of RHD students and ECRs, and established several new cross-cutting research networks in collaboration with key external partners. He has served as Treasurer and for two terms as the President of the Asian-Pacific Weed Science Society. His research focus is tropical plants especially coconut, and conservation using ex situ seed banking and tissue culture. He has been a principle investigator and scientific advisor on more than 50 scientific projects worth more than $12 million. He has published more than 180 peer reviewed papers in international journals including Proceedings of the National Academy of Sciences, and supervised more than 50 research higher degree and 40 honours students to completion.
Like most websites we use cookies. This is to ensure that we give you the best experience possible. Continuing to use
CABI.org
means you agree to our use of cookies. If you would like to, you can learn more about the cookies we use
here
.
Privacy Overview
This website uses cookies to improve your experience while you navigate through the website. Out of these, the cookies that are categorized as necessary are stored on your browser as they are essential for the working of basic functionalities of the website. We also use third-party cookies that help us analyze and understand how you use this website. These cookies will be stored in your browser only with your consent. You also have the option to opt-out of these cookies. But opting out of some of these cookies may affect your browsing experience.