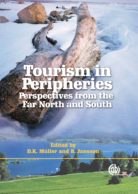 Tourism in Peripheries
Edited by: Dieter Muller, Umeå University, Sweden, Bruno Jansson, Umeå University, Sweden
November 2006 | Hardback | 288 Pages | 9781845931773
November 2006 | ePDF 9781845931797 |
$154.50 | £82.40 | €105.00
Description
Using case studies from North America, Scandinavia, Scotland, New Zealand and the Polar Regions this book explores the use of tourism as a vehicle for regional development in peripheral areas. Topics covered include tourism management, rights of access, tourism destination communities, tourism impacts and regional development. The book identifies the core obstacles facing tourism in peripheral regions and highlights that tourism development in peripheries is not any easy task.
Table of contents
i: Preface
Part I: Tourism in Peripheries - An Introduction
1: The Difficult Business of Making Pleasure Peripheries Prosperous: Perspectives on Space, Place and Environment, D K Müller and B Jansson
2: North-South Perspectives on Tourism, Regional Development and Peripheral Areas, C M Hall, University of Otago, New Zealand
Part II: Tourism and Regional Development Issues
3: Tourism in Peripheries: The Role of Tourism in Regional Development in Northern Finland, J Saarinen, Universitiy of Oulu, Finland
4: Organising Tourism Development in Peripheral Areas: The Case of the Case of the SUBARCTIC Network in Northern Sweden, M Zillinger, Umeå University, Sweden
5: The Impact of Tourism on the Local Structure of Supply with Goods and Services in Peripheral Areas - The Example of Northern Sweden, G Löffler
6: Tourism Development and the Rural Labor Market in Sweden, 1960-1999, D K Müller and P Ulrich, Umeå University, Sweden
Part III: Challenges to Peripheral Area Tourism
7: The Vulnerability of Peripheral Tourism: The Rapid Disenchantment of Peripheral Attraction, W Irvine and A R Anderson, Robert Gordon University, UK
8: ""If that's a Moose, I'd Hate to See a Rat!"" Visitors' Perspectives on Naturalness and their Consequences for Ecological Integrity in Peripheral Natural Areas of New Zealand, B Lovelock, University of Otago, New Zealand
9: Access, Tourism and Democracy: A Conceptual Framework and the Non-Establishment of a Proposed National Park in Sweden, K Sandell, Karlstad University, Sweden
10: Visitor Management in Protected Areas of the Periphery: Experiences from Both Ends of the World, P Mason, University of Luton, UK
Part IV: Tourism Opportunities
11: Wind Farms as Possible Tourist Attractions, R Nash, A Martin, D Carney and K Krishnan, Robert Gordon University, UK
12: Sport Events as Tourist Attractions in Canada's Northern Periphery, T Hinch and S de la Barre, University of de la Barre
Part V: Future Perspectives
13: Tourism Research in Greenland, B C Kaae, Danish Center for Forest, Landscaping and Planning, DenmarkEpiloge/Prologue, B Jansson and D K Müller
Reviews
Have you read this book, or used it for one of your courses? We would love to hear your feedback. Email our reviews team to submit a review.