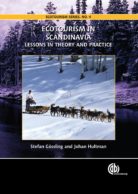 Ecotourism in Scandinavia
Lessons in Theory and Practice
By: Stefan Gössling, Linnaeus University, Sweden, Johan Hultman, Lund University, Sweden
August 2006 | Hardback | 240 Pages | 9781845931346
August 2006 | ePDF 9781845931377 |
Series : Ecotourism Series
£94.99 | €123.50 | $180.50
Description
Interest in ecotourism in Scandinavia has seen recent growth. Extended forests, rivers, and lakes allow for a great variety of nature-based activities, such as hiking, mushroom collecting, kayaking, snow mobiling and bird watching, making Scandinavia a unique region from a nature-based tourism perspective. Ecotourism in Scandinavia: Lessons in Theory and Practice is the first book to comprehensively describe, analyse and evaluate aspects of Scandinavian ecotourism and will appeal to researchers and students of ecotourism.
Table of contents
1: An introduction to ecotourism in Scandinavia , S Gössling, and J Hultman
2: Section I
3: Ecotourism in Danmark, B Kaae, Center for Skov, Landskab og planlægning, Denmark
4: Sweden: where holidays come naturally. Ecotourism development and labelling in Sweden, P Fredman, Mid Sweden University, Sweden, S Gössling, and J Hultman
5: Ecotourism in Norway – non-existence or co-existence? A Viken, Finnmark University College, Norway
6: Iceland. Nature-adventure-…eco?-island, S Gössling, and A Alkimou,
7: Section II
8: Ecotourism certification in Scandinavia, S Gössling
9: The role of nature in Swedish ecotourism, J Hultman, and E Andersson Cederholm, Lund University, Sweden
10: Ecotourism as experience-tourism, S Gössling
11: The right of public access: potentials and challenges for ecotourism, K Sandell, Karlstad University, Sweden
12: Swedish Mountain Tourism Patterns and Modeling Destination Attributes, P Fredman, and K Lindberg, Oregon State University, Sweden
13: Environmental concerns of Swedish ecotourists. An environmental-psychological perspective, S Wurzinger, Universität Wien, Austria
14: Rural development through ecotourism, N-O Nilsson, EKOSCANDICA, Sweden, and J Hultman
15: Eco-traveler or eco-site visitor? T Flognfeldt Jr, University College Lillehammer, Norway
16: Ecotourist's choice of transport modes, J Folke, J Östrup, and S Gössling, University of Lund, Sweden
17: Ecotourism and indigenous people: positive and negative impacts of Sami tourism, R Pettersson
18: Hunting tourism as ecotourism – conflicts and opportunities, Y Gunnarsdotter, Swedish University of Agricultural Sciences, Sweden
19: Policy, planning and governance in ecotourism, M Hall, University of Otago, New Zealand
Reviews
'There is a great deal of strong material in this volume, and for anyone involved in the details of ecotourism concepts and practice, the book will well repay careful study.'
Like most websites we use cookies. This is to ensure that we give you the best experience possible. Continuing to use
CABI.org
means you agree to our use of cookies. If you would like to, you can learn more about the cookies we use
here
.
Privacy Overview
This website uses cookies to improve your experience while you navigate through the website. Out of these, the cookies that are categorized as necessary are stored on your browser as they are essential for the working of basic functionalities of the website. We also use third-party cookies that help us analyze and understand how you use this website. These cookies will be stored in your browser only with your consent. You also have the option to opt-out of these cookies. But opting out of some of these cookies may affect your browsing experience.