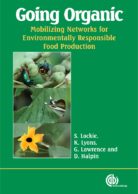 Going Organic
Mobilizing Networks for Environmentally Responsible Food Production
By: Stewart Lockie, Central Queensland University, Australia, Kristen Lyons, Griffith University, Australia, Geoffrey Lawrence, University of Queensland, Australia, Darren Halpin, Robert Gordon University, Aberdeen, UK
October 2006 | Hardback | 256 Pages | 9781845931322
£82.40 | €105.00 | $154.50
Description
This book sets out to examine what really is going on in the organic sector socially and politically. In the process, it debunks a number of apparently common-sense beliefs: that organic consumers are wealthy environmental and health extremists; that growth in the industry will inevitably undermine its environmental values; that mainstream media is antagonistic to organics; and that the industry is driven by consumer demand. This book seeks to make a practical contribution to the development of more sustainable food systems by articulating what it takes to get people involved in organics at each stage of the food chain.
Table of contents
1: Introduction
2: Positioning Organics: the Global Context for Organic Foods
3: Media Disclosures: Capturing the Environment and Health Agenda
4: Governing Organic Agriculture
5: Producing Organic Foods
6: Distribution, Trade and Retailing
7: Consuming Organics: Mobilizing 'the Consumer'
8: Organic Futures: Competition for the 'Green Market'
9: Conclusion
Reviews
Have you read this book, or used it for one of your courses? We would love to hear your feedback. Email our reviews team to submit a review.
Like most websites we use cookies. This is to ensure that we give you the best experience possible. Continuing to use
CABI.org
means you agree to our use of cookies. If you would like to, you can learn more about the cookies we use
here
.
Privacy Overview
This website uses cookies to improve your experience while you navigate through the website. Out of these, the cookies that are categorized as necessary are stored on your browser as they are essential for the working of basic functionalities of the website. We also use third-party cookies that help us analyze and understand how you use this website. These cookies will be stored in your browser only with your consent. You also have the option to opt-out of these cookies. But opting out of some of these cookies may affect your browsing experience.