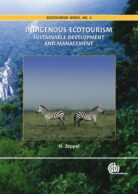 Indigenous Ecotourism
Sustainable Development and Management
By: Heather Zeppel, James Cook University, Australia
August 2006 | ePDF 9781845931254
August 2006 | Hardback | 272 Pages | 9781845931247
Series : Ecotourism Series
£90.20 | €118.25 | $169.95
Description
Dealing with indigenous ecotourism as a special type of nature-based tourism, Indigenous Ecotourism examines the key principles of this field through global case studies and analyses the key factors for sustainable development.
Table of contents
1: The Context of Indigenous Ecotourism
2: The Pacific Islands: Village-Based Ecotourism in Community Rainforests
3: Latin America: Rainforest Ecotourism, Andes Mountains and Indian Territories
4: East Africa: Wildlife and Forest Ecotourism, the Maasai and Community Lands
5: Southern Africa: Ecotourism on Wildlife Conservancies and Communal Lands
6: West Africa: Community-Based Ecotourism in Forest Areas
7: Southeast Asia: Forest and Mountain Ecotourism, Hilltribes and Island Nations
8: Sustainable Development and Management of Indigenous Ecotourism
Reviews
Have you read this book, or used it for one of your courses? We would love to hear your feedback. Email our reviews team to submit a review.
Like most websites we use cookies. This is to ensure that we give you the best experience possible. Continuing to use
CABI.org
means you agree to our use of cookies. If you would like to, you can learn more about the cookies we use
here
.
Privacy Overview
This website uses cookies to improve your experience while you navigate through the website. Out of these, the cookies that are categorized as necessary are stored on your browser as they are essential for the working of basic functionalities of the website. We also use third-party cookies that help us analyze and understand how you use this website. These cookies will be stored in your browser only with your consent. You also have the option to opt-out of these cookies. But opting out of some of these cookies may affect your browsing experience.