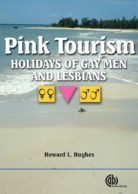 Pink Tourism
Holidays of Gay Men and Lesbians
By: Howard Hughes, Manchester Metropolitan University, Manchester, UK
August 2006 | Hardback | 256 Pages | 9781845930769
$150.00 | £80.00 | €101.95
Description
This is a study of gay and lesbian tourism from, primarily, a marketing perspective but italso examines how marketing activity engages with and affects social issues relating tohomosexuality. It includes an overview of the nature of homosexuality and relevant issues that bear upontourism and marketing. Content includes holiday profiles of both gay men and lesbians;supply of related holiday products; popular and non-popular destinations; tour operatorsand accommodation provision; tourism and sex and sexually transmitted infections; barriersand inhibitors to choice including host reactions; appropriate marketing strategies. The book locates gay and lesbian tourism and holiday marketing within a context of current issuessuch as citizenship, identity and consumerism, political activity and distraction, andcontested space and de-gaying.
Table of contents
1: Introduction
2: Homosexuality - its nature and characteristics
3: Gay and lesbian tourists - profiles and reasons
4: Destination choice as risk avoidance
5: Gay and lesbian tourism destinations
6: Intermediaries, accommodation and attractions
7: Marketing, segments, surveys and identity
8: Holidays, marketing and implications for homosexuality
9: Conclusions and implications
Reviews
Have you read this book, or used it for one of your courses? We would love to hear your feedback. Email our reviews team to submit a review.
Like most websites we use cookies. This is to ensure that we give you the best experience possible. Continuing to use www.cabi.org means you agree to our use of cookies. If you would like to, you can learn more about the cookies we use here.