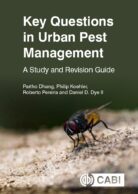 Key Questions in Urban Pest Management
A Study and Revision Guide
By: Partho Dhang, Independent Consultant, Philippines, Philip Koehler, University of Florida, USA, Roberto Pereira, University of Florida, USA, Daniel Dye II, Brooker, Florida, USA
May 2022 | Paperback | 216 Pages | 9781800620155
April 2022 | ePDF 9781800620162 | ePub 9781800620179
Series : Key Questions
Description
Urban pests are common all over the world. These include cockroaches, flies, mosquitoes, bed bugs, ticks, fleas, ants, termites, rodents and others. These pests thrive in human structures, where there is food, warmth and places to hide. Urban pests are one of the leading causes of illnesses in humans due to allergies, bites, food contamination and phobias. They can also cause significant damage to property and structures.

Knowledge and training in this field is vital for professional and trainee pest managers. This book is specifically intended to provide an aid to such candidates. The book contains 500 multiple-choice questions (and answers) grouped into the following major topic areas:

· The history of urban entomology
· Household pests
· Cockroaches
· Flies
· Mosquitoes
· Bed bugs
· Termites
· Sporadic pests
· Stored product pests
· Vertebrate pests
· Pesticides and pesticide formulations
· Handling pesticides
· Integrated Pest Control

Produced in a convenient format that can be used at any time in any place, the book allows the reader to learn and revise the subject and much more. Its structure allows the study of one topic area at a time, progressing through a simple introduction followed by key revision questions, many of which require students to use their practical knowledge. The answers to each of the questions are provided at the end with short explanations wherever appropriate.
Table of contents
1: Introduction to Urban Pest Management
2: Pest Identification
3: Mosquitoes
4: Bed Bugs
5: Flies
6: Cockroaches
7: Subterranean Termites
8: Drywood Termites
9: Powderpost Beetles and Wood Pests
10: Ants
11: Fleas, Ticks and Mites
12: Sporadic Pests
13: Stored Product Pests
14: Rodents
15: Birds and Bats
16: Pesticides and Formulations
17: Handling Pesticides
18: Integrated Pest Management
19: Answers
Readership
undergraduate students and post graduate students of urban pest management, pest control trainees, pest control professionals
Reviews
Have you read this book, or used it for one of your courses? We would love to hear your feedback. Email our reviews team to submit a review.
Partho Dhang received his PhD in Life Science from the University of Madras, India. His research interests are on insecticides, natural product chemistry, insect pheromones, biopesticides, and insecticide baits. Partho Dhang is a prolific writer and speaker in the International pest control market. He has spoken in many international conferences such as NPMA, ICUP, IRG, Pest Summit, FAOPMA, TRG, Rapid Conference etc. He has published over 30 peer-reviewed papers in international journal of repute. He has edited and written four books on "Urban Pest Management" which are all published by CAB International. Presently Partho Dhang lives in Philippines and in India.
Phil Koehler is Emeritus Professor in Urban Entomology at the University of Florida. His research interests are on improved management of urban pests, including bed bugs, flies, mosquitoes, cockroaches, termites, and ants. He received his PhD in Endotmology from Cornell University and is a Fellow of the Entomological Society of America and National Academy of Inventors. He is honorary member of the Florida Pest Management Association and honorary member of the Certified Pest Control Operators of Florida. His honors include the University of Florida's Distinguished Faculty Award, University of Florida's Academy of Teaching Excellence, University of Florida Professorial Excellence Award, and two USDA Distinguished Service Awards, During the past 45 years he has published over 200 scientific publications and given over 2,500 presentations to the pest control industry.
Roberto Pereira is an entomologist with B.S. in Agriculture from the University of São Paulo, Brazil, M.S. from Cornell University, and a Ph.D. from the University of Florida. Early in his career, Roberto with microbial control of insects including fire ants and other urban pests. Roberto is a Research Scientist at the Urban Entomology Laboratory at the University of Florida. He conducts research, education, and extension in several areas of urban entomology, including ants, cockroaches, termites, bed bugs, flies, mosquitoes, and other pests. Roberto has authored or coauthored more than 120 scientific publications and book chapters, several US and international patents on pest control, and numerous non-refereed and trade journal publications. He currently serves as Managing Editor for PestPro Magazine, is a member of the Society for Invertebrate Pathology, the Entomological Society of America, the Entomological Society of Brazil, the Florida Entomological Society.
Like most websites we use cookies. This is to ensure that we give you the best experience possible. Continuing to use
CABI.org
means you agree to our use of cookies. If you would like to, you can learn more about the cookies we use
here
.
Privacy Overview
This website uses cookies to improve your experience while you navigate through the website. Out of these, the cookies that are categorized as necessary are stored on your browser as they are essential for the working of basic functionalities of the website. We also use third-party cookies that help us analyze and understand how you use this website. These cookies will be stored in your browser only with your consent. You also have the option to opt-out of these cookies. But opting out of some of these cookies may affect your browsing experience.