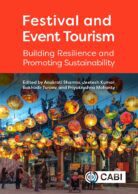 Festival and Event Tourism
Building Resilience and Promoting Sustainability
Edited by: Anukrati Sharma, University of Kota, India, Jeetesh Kumar, Taylor's University, Malaysia, Bakhodir Turaev, Silk International University of Tourism, Uzbekistan, Priyakrushna Mohanty, Pondicherry University, India
June 2022 | ePDF 9781789248678 | ePub 9781789248685
June 2022 | Hardback | 176 Pages | 9781789248661
£95.00 | €110.00 | $130.00
Description
Festivals and events vary from small, neighbourhood celebrations through to mega gatherings, and both can be attractive to tourists. They come with their own unique challenges and opportunities however, which means destinations must carefully consider their responsibility to local people, and host them in a sustainable manner.

Divided into four sections, this book covers the sustainability, community involvement and destination-marketing aspects of festivals and events. This book:

- Reviews the common trends, trajectories and competition in the event tourism market.
- Discusses the role of event organizers in ensuring the sustainability of events and their destinations, including green activities and cultural preservation.
- Considers the role of the community in achieving sustainability through volunteerism, heritage conservation and ensuring events boost community spirit.

Covering important issues such as the marketing, branding and promotion of events, this book also unravels the opportunities and challenges associated with sustainable festivals and events. It uses an array of case studies and a global author team to provide an important resource for tourism and event researchers and professionals.
Table of contents
Part 1: Transforming Sustainability into a Strategy
1: Making Events more Resilient: Emerging Issues and Concerns
2: Managing Events and Festivals Post-COVID-19: Maintaining the Status Quo or Resetting for the Sustainability Agenda
3: Parang Music as an Attractant for Rural Development: an Example from the Village of Lopinot, Trinidad
4: Small-scale Events as a Tool for Sustainability: Prospects and Constraints
5: Festivals in Terms of Cultural Sustainability : A Research with the Perspective of Tourist Guides
Part 2: Green Events and Festivals
6: Iceland Airwaves Music Festival, a Green Festival? The Dissonance Between Stakeholders
7: Music, Green Marketing and Sustainability Festivals: the Case of Rock In Rio Tourist Event
8: The Effectiveness of Organizational Absorptive Capacity on Green Innovation Performance among Event SMEs: A Comparative Study of Malaysia and Singapore
Part 3: Communities, Festivals and Events
9: Inclusive Community Development Through Events: Lessons from Casual Day with Persons with Disabilities Event in South Africa
10: Boom Festival - A Study about the Evolution of Local Inhabitants' Perceptions Between 2009 and 2021
11: Community-Initiated Event Tourism in the Global South: the Case of South Africa and the Kingdom of Lesotho
12: Heritage Sporting Events (HSEs): Issues and Prospects
Part 4: Case Studies on Festival and Event Tourism Destinations: Branding and Promotions
13: Women, Religion and Festivals: Exploring Qualitative Dimensions of the Role of Women in Legends Behind the Celebration of Festivals in India
14: An Evaluation of Event Tourism in Terms of Destination Brand Value
15: Technology and Crowd Management at Events: a Case Study of Kumbh Festival in India
Readership
Suitable for researchers and students of tourism and events, as well as those working in the field.
Reviews
Have you read this book, or used it for one of your courses? We would love to hear your feedback. Email our reviews team to submit a review.
Dr Sharma is an Associate Professor in the Department of Commerce and Management, University of Kota, Kota, Rajasthan, India. In 2015, she received a Research Award from the University Grants Commission (UGC), New Delhi, for her project "Analysis of the Status of Tourism in Hadoti and Shekhawati Region/Circuit (Rajasthan): Opportunities, Challenges, and Future Prospects." Her doctorate from the University of Rajasthan is in Tourism Marketing, and she completed her dissertation research on Tourism in Rajasthan – Progress & Prospects. She has two postgraduate degree specialties: International Business (Master of International Business) and Business Administration (Master of Commerce). Her particular interest areas are Tourism, Tourism Marketing, Strategic Management, and International Business Management. She has edited six books to date and authored a further two. A member of 17 professional bodies, she has attended a number of national and international conferences and presented 45 papers, and has been invited as a keynote speaker to events in Sri Lanka, Nepal, Uzbekistan and Turkey. Dr Sharma also handles training sessions at the Rajasthan Police Academy in Jaipur, on such topics as Change Management, Communication Skills, Gender Discrimination, and Personality Development.
Dr Kumar is Senior Lecturer in the School of Hospitality, Tourism and Events, Taylor's University, Malaysia. His doctorate is from Taylor's University in Hospitality and Tourism, with research on economic impacts of business events in Malaysia. He has two postgraduate degree specialties; Professional Master's in Hospitality Management and International Tourism from University of Toulouse, France and the other in Business Administration (MBA – Marketing) form Hamdard University, Pakistan. His research areas include Economic Impacts, Economic Modelling, MICE, Medical Tourism, Behavioural Studies. He has worked on consultancy and research projects at the national level and authored 35+ publications including research articles and book chapters. He is an active member of several national and international associations, conference and journals. He has attended/presented a number of papers in national and international conferences. Recently he has offered webinar session of numerous universities in Philippines, India, Nepal and Pakistan.
Bakhodir Turaev, PhD is a professor in the Department of General Professional and Special Disciplines, Silk Road International University of Tourism Samarkand, Uzbekistan. His doctorate from Tashkent State Economic University is in Management and Marketing. He has published books on five books, and attended a number of national, regional and international conferences, presenting 60 papers and acting as keynote speaker. He has served as a visiting professor in universities across Russia, Turkey, the Czech Republic, Kazakhstan and Kirgizstan.
Priyakrushna Mohanty is an U.G.C. Senior Research Fellow at the Department of Tourism Studies, Pondicherry University, India. He is an awardee of the prestigious Travel Corporation (India) Gold Medal for his outstanding performance in Master's Degree in Tourism Studies from Pondicherry University, India. He also holds a Master's Degree in Commerce along with three PG Diploma Degrees in Rural Development, Research Methodology, and Teaching Skills. He has served the Indian Railway Catering and Tourism Corporation Ltd. for two years following which he was recruited as a Guest Faculty in the Dept. of Tourism Studies, Pondicherry University. He has published more than fifteen articles and chapters in both international and national journals and edited books. Mr. Mohanty is passionate about academic areas of Tourism Sustainability, Sustainable Livelihood, Technology, and Tourism along with Gender issues in Tourism Development.
Like most websites we use cookies. This is to ensure that we give you the best experience possible. Continuing to use
CABI.org
means you agree to our use of cookies. If you would like to, you can learn more about the cookies we use
here
.
Privacy Overview
This website uses cookies to improve your experience while you navigate through the website. Out of these, the cookies that are categorized as necessary are stored on your browser as they are essential for the working of basic functionalities of the website. We also use third-party cookies that help us analyze and understand how you use this website. These cookies will be stored in your browser only with your consent. You also have the option to opt-out of these cookies. But opting out of some of these cookies may affect your browsing experience.