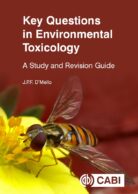 Key Questions in Environmental Toxicology
A Study and Revision Guide
By: J P F D'Mello, formerly Scottish Agricultural College, UK
August 2022 | Paperback | 296 Pages | 9781789248524
August 2022 | ePDF 9781789248531 | ePub 9781789248548
Series : Key Questions
Description
Key Questions in Environmental Toxicology is designed as a self-study tool for undergraduate students. Questions review the origin, characterization and environmental distribution of major pollutants, followed by their absorption and metabolic disposition in living organisms. They address implications for the development of cancer, cardiovascular disease, pulmonary dysfunction and neurological conditions in relation to gaseous pollutants, particulates, persistent organic compounds and radioactive emissions, then cover the impact of pollutants on biodiversity, food safety, and water contamination. This book:

- Covers toxicology from human morbidity, ecological impact and biodiversity perspectives, and emphasises the impact of diverse organic pollutants in worsening these interconnected phenomena, leading to wider environmental emergencies;
- Provides a selection of fill-in-the-gap, multiple choice and short answer question types for students to vary their learning and enhance motivation;
- Includes full answer rationales, allowing students to gain true insight into the subject.

Providing support to programmes across environmental science, ecology and human health, and covering all the major biological toxins and pollutants as well as unintended consequences of actions designed to improve outcomes, this book may be used in conjunction with the companion volume Introduction to Environmental Toxicology.
Table of contents
1: Basic Principles
2: Biogenic Contaminants
3: Ambient Gases and Particulates
4: Persistent Organic Pollutants
5: Fossil Fuel Pollutants
6: Metallic Elements
7: Consumerism and Lifestyle Choices: Toxicological Implications
8: Radiation Hazards
9: Adaptation in Living Organisms
10: Discussion
Readership
Suitable for undergraduates studying environmental toxicology and related subjects such as environmental sciences, human health and geography.
Reviews
Have you read this book, or used it for one of your courses? We would love to hear your feedback. Email our reviews team to submit a review.
J.P.F. D'Mello is a double graduate of the University of Nottingham, obtaining a BSc Honours in 1964 and a PhD in 1967, both in the Department of Applied Biochemistry. He began work at the Edinburgh School of Agriculture in 1968, lecturing to students and commencing research with grants from the Agricultural Research Council, Tropical Products Institute (ODA), BP and ICI. He has supervised a number of Honours, MSc and PhD students during his years at Edinburgh, published extensively in refereed journals, and took charge of the Environmental Protection and Management degree course for four years until retirement. Since retiring, he has edited 5 books for CABI, with A Handbook of Environmental Toxicology: Human Disorders and Ecotoxicology published in December 2019 and the authored text Introduction to Environmental Toxicology publishing in late 2020.
Like most websites we use cookies. This is to ensure that we give you the best experience possible. Continuing to use
CABI.org
means you agree to our use of cookies. If you would like to, you can learn more about the cookies we use
here
.
Privacy Overview
This website uses cookies to improve your experience while you navigate through the website. Out of these, the cookies that are categorized as necessary are stored on your browser as they are essential for the working of basic functionalities of the website. We also use third-party cookies that help us analyze and understand how you use this website. These cookies will be stored in your browser only with your consent. You also have the option to opt-out of these cookies. But opting out of some of these cookies may affect your browsing experience.