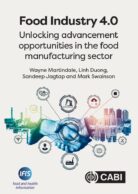 Food Industry 4.0
Unlocking Advancement Opportunities in the Food Manufacturing Sector
By: Wayne Martindale, University of Lincoln, UK, Linh Duong, University of the West of England, UK, Sandeep Jagtap, Cranfield University, UK, Mark Swainson, University of Lincoln, UK
February 2022 | Paperback | 168 Pages | 9781789248425
February 2022 | Hardback | 168 Pages | 9781800621039
February 2022 | ePDF 9781789248586 | ePub 9781789248593
Description
This book provides industry insights and fresh ideas for the advancement of the most vital global industry - food. Drawing on their industry and academic expertise the authors have identified three controlling aspects of food business operations that can unleash long term success: consumer health and wellbeing; product and process sustainability; and harnessing advances in digitalization. If developed to their maximum potential these factors have the capability to revolutionize the food sector.

Food Industry 4.0 highlights advancement opportunities for the food manufacturing sector, including innovation in products, processes and services, as it seeks to combine productive, efficient and sustainable practices. The contents address:

Mapping data, new approaches for food system applications.
The perfect meal and making a balanced global diet possible.
Industry 4.0 applications in the food sector: robotics and automation, big data, Internet of Things, cybersecurity.
Resource utilization in the food manufacturing sector.
Resilience and sustainability in food supply chains.
Environmental and social governance in our food system.

It is of significant benefit to food industry practitioners working in operational and product development roles, academic researchers, policy makers, students, and food sector professionals.
Table of contents
1: Our Connected Future and Global Food Markets
2: Mapping Data: New Approaches for Food System Applications
3: The Perfect Meal
4: Food 4.0: Industry 4.0 Applications in the Food Sector
5: Revealing the Value of Resource Efficiency in the Food Manufacturing Sector
6: Sustainability in the Food Supply Chains
7: Transformational Systems and Resilience in Food Manufacturing
8: Corporate Social Responsibility as a Driver for the Advancement of a Productive and Sustainable Food System
Readership
Educators, researchers and students of food and its related operations; practitioners in operational and product development roles; others interested in supply chain management and advancement/innovation in the food system.
Reviews
Have you read this book, or used it for one of your courses? We would love to hear your feedback. Email our reviews team to submit a review.
Wayne directs the Food Insights and Sustainability Service (FISS) at the National Centre for Food Manufacturing at the University of Lincoln. FISS applies research across the food industry for some of our best-known brands. Wayne has been working in sustainability since 1998, after eight years of doctoral research in biochemistry in the UK, Japan and USA. He started his sustainability practice with the BASIS/FACTS leadership team delivering certification programmes for UK agriculture and has held visiting scientist roles at CSIRO Australia and the OECD in Paris.
Dr Linh N K Duong is a Senior Lecturer in Operations Management at Bristol Business School, University of the West of England, UK.
His current research interests focus on sustainable and resilient supply chain management with the link to digital transformation, innovation, and collaboration among supply chain partners. He focuses on vulnerable contexts such as the agri-food industry, tourism industry, or small and medium enterprises (SMEs). His papers relating to supply chain resiliency and sustainable innovation were published in the International Journal of Production Research (ABS: 3, JIF: 3.199), Journal of Macromaketing (ABS: 2, JIF: 1.952), and Trends in Food Science and Technology (JIF: 11.077).
He has previously worked at the University of Lincoln (UK), New Zealand Forest Research Institute (Scion) and Auckland University of Technology (NZ). Prior to this, he worked in the Supply Chain Management field since 2007 for dairy and pharmaceutical companies. He also joined projects on Distribution Management Systems, Inventory Management, and Production Management.
Dr Duong has taught a range of operations management and supply chain modules and has experience in module design and student supervision. He is on the Editorial Review Board for the International Journal of Applied Logistics and reviews for several journals including the International Journal of Production Economics.
Dr Sandeep Jagtap is a Lecturer in Smart and Green manufacturing at Sustainable Manufacturing Systems Centre, School of Aerospace, Transport and Manufacturing. He worked as a Lecturer in Food and Drink Supply Chain Management at National Centre for Food Manufacturing, University of Lincoln. He has over 15 years of combined experience within academics and industry.
Dr Jagtap holds a PhD in Sustainable Food Supply Chain Management from Loughborough University, UK, which was sponsored by EPSRC Centre for Innovative Manufacturing in Food. He holds a B.Tech in Food Technology from North Maharashtra University, India; a Master's Degree in Bio-Food Technology from Lund University in Sweden; and an MBA from the University of Applied Sciences – Stralsund, Germany.
Dr Jagtap serves on the Editorial Advisory Board for the British Food Journal. He is a Fellow of the Institute of Food Science and Technology (FIFST) and Higher Education Academy (FHEA).
Mark Swainson is Deputy Head of the National Centre for Food Manufacturing and lead for Higher Education and Research. His industrial food manufacturing sector expertise was developed whilst working in senior Technical and Operations Management roles within the high risk chilled and frozen food industry, for suppliers of a wide range of products (including ready meals, soups, sauces, pasta salads, dips and dressings) to the major supermarkets, food manufacturing and food service sectors. An experienced technical and operations manager well qualified in industrial food technology and food process and packaging systems, Mark is listed on the European Food Safety Authority's (EFSA) Food Safety Experts Database, is a qualified and experienced Lead Auditor, a member of the Knowledge Transfer Network (Food Advisory Group) and a member of the Institute of Packaging. Since joining the University Mark has progressed industry-based research and work with businesses on bespoke projects in order to address specific food industry needs and issues. Mark also leads the design, development and delivery of the Higher Education provision at the NCFM, including Foundation Degrees, BSc Hons and Degree Apprenticeships in subject areas including Food Science and Technology and Food Operations Management. Mark also leads the NCFM post-graduate provision (Master of Science Degrees and PhDs) across an extensive range of Food Sector subject areas.
Like most websites we use cookies. This is to ensure that we give you the best experience possible. Continuing to use
CABI.org
means you agree to our use of cookies. If you would like to, you can learn more about the cookies we use
here
.
Privacy Overview
This website uses cookies to improve your experience while you navigate through the website. Out of these, the cookies that are categorized as necessary are stored on your browser as they are essential for the working of basic functionalities of the website. We also use third-party cookies that help us analyze and understand how you use this website. These cookies will be stored in your browser only with your consent. You also have the option to opt-out of these cookies. But opting out of some of these cookies may affect your browsing experience.