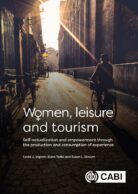 Women, Leisure and Tourism
Self-actualization and Empowerment through the Production and Consumption of Experience
Edited by: Linda Ingram, George Mason University, USA, Klára Tarkó, University of Szeged, Hungary, Susan L Slocum, George Mason University, USA
December 2021 | ePub 9781789248012 | ePDF 9781789247992
December 2021 | Hardback | 200 Pages | 9781789247985
£95.00 | €110.00 | $130.00
Description
Women, Leisure and Tourism provides a comprehensive discussion of women, leisure, and tourism through the lens of leisure production and consumption, both by women and for women. Specifically, this text includes a multi-cultural perspective to highlight the unique attributes leisure brings to women, the role of women in leisure entrepreneurship, and the creation of supportive, inclusive environments to enhance female well-being through the examination of these activities in often overlooked populations. The diversity of women's leisure and tourism practices is best perceived through the links between various leisure practices (e.g., sport, outdoor recreation, travel and tourism, learning, crafts, events, family leisure), as well as an understanding of leisure production across cultures and life stages. These chapters bring to the forefront many of the challenges inherent in providing leisure and tourism that support the diverse needs of women, as well as a look at female innovation that is also often overlooked in leisure research. The book includes examples of both applied and conceptual chapters from global perspectives in academic studies. This book:

- Is written by multi-disciplinary authors.
- Includes case studies, research methodologies and pedagogical approaches to highlight the complexity of gender studies and provide a diverse toolkit to support further research on women and gender.
- Presents applied and conceptual chapters from global perspectives in academic studies.

This book is valuable for academics and graduate students of tourism, leisure and gender studies.
Table of contents
1: An examination of female exceptionalism in early leisure placemaking activities
2: Masculinity & moral licensing in the locker room: A critical analysis of culture, gender and leisure
3: Sport for women in later life
4: History and identity: Female vendors at a Renaissance Festival
5: By her own hand: Creativity, crafts and commerce
6: Creating a culture of consent for event tourism
7: Older women and leisure
8: Nonformal learning participation as leisure for Syrian refugee women in Turkey
9: Running away or running toward? Pilgrimage as a source of women's leisure
10: The online life of gamer women
11: A netnographic study on Chinese women's guimi travel experiences
12: Queens on the go: An Africana woman scholar and traveler experience
13: Women and leisure in the Italian context
14: Towards an understanding of Indian women's construction of leisure
15: Conclusion
Readership
Academics and graduate students of leisure, tourism and gender studies
Reviews
Have you read this book, or used it for one of your courses? We would love to hear your feedback. Email our reviews team to submit a review.
Linda J. Ingram teaches sustainable tourism development and global issues in tourism. Research interests include environmental and cultural sustainability, historic preservation, gender studies, sense of place, material culture, and tourism. She has published in several journals and her first edited book, Neolocalism and tourism: Understanding a global movement, is in process.
Klára Tarkó is a Sociologist and teaches English and Physics. Since 2000 she has focused on minority studies and lifestyle research. She leads a practice-based education in health promotion and minority studies. She was project coordinator and sub-programme coordinator of EU funded teaching material development projects. She is the head of the Health Promoting Minority Coordinator postgraduate and in-service training. She teaches foreign students at several European universities.
Susan L. Slocum specializes in sustainable economic development through tourism and policy implementation at the regional and national level. Working with communities to enhance backward linkages between tourism and traditional industries, she has worked with rural communities in the US, UK, and indigenous populations in emerging tourism destinations in Tanzania. She has published 4 edited books and authored 2 books, including a textbook on food and agricultural tourism.
Like most websites we use cookies. This is to ensure that we give you the best experience possible. Continuing to use
CABI.org
means you agree to our use of cookies. If you would like to, you can learn more about the cookies we use
here
.
Privacy Overview
This website uses cookies to improve your experience while you navigate through the website. Out of these, the cookies that are categorized as necessary are stored on your browser as they are essential for the working of basic functionalities of the website. We also use third-party cookies that help us analyze and understand how you use this website. These cookies will be stored in your browser only with your consent. You also have the option to opt-out of these cookies. But opting out of some of these cookies may affect your browsing experience.