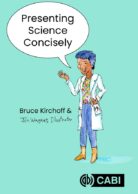 Presenting Science Concisely
By: Bruce Kirchoff, University of North Carolina at Greensboro, USA
November 2021 | Paperback | 136 Pages | 9781789246995
October 2021 | ePDF 9781789247008 | ePub 9781789247015
Description
Imagine you are a scientist faced with presenting your research clearly and concisely. Where would you go for help? This book provides the answer. It shows how to use story structure to craft clear, credible presentations. In it you will find exercises to help you give both short and long presentations. Elevator pitches, lightning talks, Three Minute Thesis (3MT®), and conference presentations are all covered as are suggestions for longer presentations. Separate chapters address good poster design, how to tailor your talk to an audience, and presentation skills.

Throughout the book the focus is on creating surprising, memorable stories. Scientific presentations are true stories about new discoveries. They are surprising because every new discovery changes our understanding of the world, and memorable because they move audiences.

The book also covers:
· Randy Olson's And-But-Therefore (ABT) narrative form
· Mike Morrison's Better Poster designs
· Eye-tracking analyses of posters by EyeQuant
· Numerous case studies and examples from different scientific fields
· Links to videos of exemplary presentations

With light-hearted illustrations by Jon Wagner this book will appeal to researchers and graduate students in all areas of science, and other disciplines too.
Table of contents
1: First Principles: Explaining Science Through Stories
2: A Deeper Look at Narrative Structure
3: Presenting in Three Minutes
4: Elevator Pitches
5: Applications to Longer Forms
6: Poster Presentations
7: Analysis of Real Posters
8: Audience - It is All About the Audience
9: Presentation Skills
Readership
Researchers and graduate students in all areas of science. Other disciplines too.
Reviews
If you can communicate your science in short, you can do it in long. But not vice-versa. Learning to give short research presentations is a fundamental skill for anybody who wants to be exceptional at science communication, and Bruce has written here one of the best guides to boosting exactly that skill. - Mike Morrison
Communication centers will benefit from having Presenting Science Concisely on hand as a reference for working with science communicators as well as for purposes of staff training... Scientists will come to realize that effective audience adaptation does not mean watering down the science but rather putting it into a narrative format that will pique listeners' curiosities and become more memorable. - Laura A. Stengrim, Communication Center Journal
The two cornerstones of the book are (1) the art of presenting science through storytelling and transforming the story into a play of three or more acts, and (2) a focus on knowing and reaching the author's audience. The chapters on posters are particularly useful, as they include a detailed discussion (and examples) of titles and bring in cognitive psychological principles, as EyeQuant technology to track visual movement on the poster. The illustrations, created in color for the book by Jon Wagner, are at once whimsically humorous and totally to the point of the discussion in the text. I recommend this book to anyone who works as a biological scientist and presents research results to a variety of audiences.. - David Lee, Plant Science Bulletin
Presenting Science Concisely is a great resource for any scientists who want to better communicate their latest research findings and efforts to the general public. The book offers a detailed, yet digestible, overview of how to talk about your research in a way that is relevant to the everyday lives of readers and listeners. - Kevin Ho, Fancy Comma
Dr Bruce Kirchoff is a Professor of Biology at the University of North Carolina at Greensboro (UNCG). He has won the UNC Board of Governors Award for Excellence in Teaching, the Charles Edwin Bessey Teaching Award from the Botanical Society of America, and the Innovations in Plant Systematics Education Prize from the American Society of Plant Taxonomists. He studied scientific communication at the Alan Alda Center, storytelling with North Carolina storyteller Louise Kessel, and is a member of the Soylent Greensboro improv group.
Like most websites we use cookies. This is to ensure that we give you the best experience possible. Continuing to use
CABI.org
means you agree to our use of cookies. If you would like to, you can learn more about the cookies we use
here
.
Privacy Overview
This website uses cookies to improve your experience while you navigate through the website. Out of these, the cookies that are categorized as necessary are stored on your browser as they are essential for the working of basic functionalities of the website. We also use third-party cookies that help us analyze and understand how you use this website. These cookies will be stored in your browser only with your consent. You also have the option to opt-out of these cookies. But opting out of some of these cookies may affect your browsing experience.