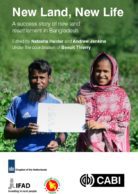 New Land, New Life
A success story of new land resettlement in Bangladesh
Edited by: Andrew Jenkins, Char Development and Settlement Project (CDSP), Bangladesh, Natasha Haider, Euroconsult Mott MacDonald, The Netherlands
June 2020 | Paperback | 118 Pages | 9781789246049
June 2020 | ePDF 9781789246056 | ePub 9781789246063
Description
The Ganges-Brahmaputra-Meghna delta has newly emerged 'char' islands, resulting from the deposition of sediment, which are very vulnerable, socially, institutionally and environmentally. This book explains how the governments of Bangladesh and the Netherlands and the International Fund for Agricultural Development cooperated on a land-based rural development project to give settlers security and purpose. It details how they engaged communities and civil societies, and implemented an infrastructure aimed at reducing flooding, improving drainage, and providing adequate drinking water and sanitation. The book describes the project's application to crop and animal agriculture, and the development of value chains and encouragement of female participation. It considers the financial underpinning and infrastructure, as well as how to ensure the impacts of the scheme are enduring. The scheme serves as a model for support projects to vulnerable groups faced with climate change and other environmental challenges.

This book is suitable for students, researchers, specialists and practitioners in rural development, water resources, land management and soil science.
Table of contents
1: THE COASTAL CHARS OF BANGLADESH
2: THE BIRTH OF CDSP IV
3: MANAGING CHAR DEVELOPMENT AND SETTLEMENT: A COMPLEX PROCESS
4: INVOLVING THE COMMUNITIES AND CIVIL SOCIETY
5: ROLE OF WOMEN IN DEVELOPMENT
6: DEVELOPING THE INFRASTRUCTURE
7: THE LAND SETTLEMENT PROCESS
8: THE POWER OF AGRICULTURE
9: MONEY MATTERS – SAVINGS AND LOANS
10: ENVIRONMENTAL IMPROVEMENT WITH TREES
11: INCOME AND QUALITY OF LIFE
12: OUR PRIDE
13: WHEN THE PROJECT LEAVES
Readership
This book will be of value to students, researchers and practitioners in rural development.
Reviews
Have you read this book, or used it for one of your courses? We would love to hear your feedback. Email our reviews team to submit a review.
Andrew Jenkins has a first degree in social science and an MSc in Agricultural Engineering, with over 40 years' experience in water management and rural development in South and South-east Asia. He has worked for ten years for the leading international CSO and Social Enterprise, BRAC, which was founded and is based in Bangladesh, where he initiated and coordinated the Impact Assessment Unit in the Research and Evaluation Division, and also participated in the Global Value research project with several European institutes and business schools.
He is currently the Team Leader of the Char Development and Settlement Project, Bangladesh, a Visiting Fellow at the Judge Business School, Cambridge University, and a Senior Strategic Advisor on Agricultural Water in South Asia to the 2030 Water Resources Group, which is a public/private partnership, also involving civil society, and supported by the International Finance Corporation.
Natasha Haider holds a MSc degree in Environmental Science from Wageningen University, the Netherlands. She has mostly worked on projects related to climate change adaptation, water resources management and disaster risk reduction. Currently, employed as a consultant in Euroconsult Mott MacDonald head office (The Netherlands) from where she is managing international donor funded projects among which CDSP is one. She is also contributing in the current phase of the Char Development and Settlement Project Bridging (CDSP-B), Bangladesh (2019-present) as the Climate Resilience/Disaster Management Expert.
Like most websites we use cookies. This is to ensure that we give you the best experience possible. Continuing to use
CABI.org
means you agree to our use of cookies. If you would like to, you can learn more about the cookies we use
here
.
Privacy Overview
This website uses cookies to improve your experience while you navigate through the website. Out of these, the cookies that are categorized as necessary are stored on your browser as they are essential for the working of basic functionalities of the website. We also use third-party cookies that help us analyze and understand how you use this website. These cookies will be stored in your browser only with your consent. You also have the option to opt-out of these cookies. But opting out of some of these cookies may affect your browsing experience.