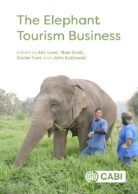 The Elephant Tourism Business
Edited by: Eric Laws, Leshan Normal University, China, Noel Scott, University of the Sunshine Coast, Australia, Xavier Font, University of Surrey, UK, John Koldowski, Leshan Normal University, China
December 2020 | Hardback | 336 Pages | 9781789245868
November 2020 | ePDF 9781789245875 | ePub 9781789245882
£97.40 | €112.75 | $133.25
Description
Elephant tourism is a growing activity in many countries across Asia and Africa and is popular with tourists from all parts of the world. Elephant tourism has grown rapidly, providing the only viable way for elephants and their owners to survive since the banning of logging. Old logging camps have been developed into sanctuaries for some elephants, but many other camps were established as entertainment centres, resulting in serious welfare issues for the elephants and their mahouts. The profits from elephant tourism in Asia have encouraged African operators to follow a similar business model.

This book draws attention to the need for a comprehensive and rigorous focus on local solutions to improve the welfare of captive elephants, their mahouts and local residents, and to enhance tourists' experiences of elephant tourism. It achieves this by:

- Critically reviewing recent research into elephant tourism.
- Providing contemporary analytical case studies of elephant tourism policy and practice.

The Elephant Tourism Business will contribute to a better understanding of how elephant tourism is organised, regulated and promoted, both in elephant areas and tourist origin countries. It identifies priorities for future research into elephant tourism and provides a unique, authoritative resource for researchers, elephant managers and administrators, and tourism managers.

The book will be of interest to academics and practitioners with backgrounds in conservation, the environment, tourism and veterinary sciences, and will appeal to tourists keen to experience elephants in person.
Table of contents
1: Personal Experiences of Elephant Tourism
1: Managing the Anantara Golden Triangle Elephant Camp. Eric Laws Interviews John Edward Roberts
2: PATA and Jetwing. John Koldowski Interviews Chi Lo and Senal Siriwardene
3: The Elephant in the Room: an Auto Ethnographic Approach. Vinathe Sharma Brymer and Eric Brymer.
2: Expectations and Experiences of Interactions with Elephants
4: Drivers of Elephant Tourism in Thailand. Bongkosh Rittichainuwat, Noel Scott and Eric Laws.
5: Visitor Expectations and Behaviours at Elephant Camps. Saranphat Chotmanakul and Somyot Onghlualp
6: Alternative Forms of Elephant Tourism. Susanna Curtin and Charlotte Day
7: Elephant Visitor Preferences and Experiences in Sri Lanka. Ramona Strödecke and Nicole Häusler.
3: Ethical and Moral Perspectives
8: Moral Tensions for Elephant Visitors. Anja Pabel and Mucha Mkono
9: The Valuation of Ethical Encounters with Elephants. Quingmong Cui and Honggang Xu
10: Community, Collaboration, Elephant Conservation and Protection. Liv Baker, Sarah Blaine and Rebecca Winkler
11: Conservation-based Elephant Tourism: an Importance-Performance Analysis. Daminda Sumanpala, Nilakshi Galahtiyawe and Isabelle Wolf.
4: Frameworks for Modern Elephant Tourism Management
12: The Effectiveness of Elephant Welfare Regulations in India. Sumanth Bindumadhav, Alakparna Sengupta and Shilapa Mahbubani.
13: Elephant Tourism Conservation and the Need for a New Strategy: Thai Stakeholder Attitudes. Ann Suwaree Ashton.
14: Elephant Tourism, the ABTA Animal Welfare Guidelines. Claire Jenkinson
5: Elephants and Their Stories
15: A Case Study of Elephant Venue Narratives. Jeffrey Dale Hobbs and Pienpeng Na Pattalung
16: The Valuation of Elephant Sightings in Protected Areas. Andrea and Melville Saayman
17: Social Media: a Proxy Voice of Elephants. Kannapa Pongponrat and Naphawan Chantradoan
6: What Next? Proxy Voices for Elephants
18: Modernising Human-Elephant Interactions. Andrew McLean
19: Validating a Captive Elephant Welfare Index. Vivek Gurswamy and Clive Phillips
20: Promoting Elephant Friendly Tourism. Marjorie Van Strien and Jan Schmidt-Burback
21: The Paradox of Elephant Friendly Tourism. Daniel Turner and Naut Kusters
22: Conclusion. Xavier Font, Noel Scott, John Koldowski and Eric Laws.
23: Postscript. COVID-19 and The Elephant Tourism Business, a Preliminary Analysis. Eric Laws, John Koldowski, Xavier Font, Noel Scott, Taweepoke Angkawanish, Nina Brask , Daniel Turner, Bongkosh Rittichainuwat and Suphaporn Rattanaphinanchai
Readership
International academic researchers interested in tourism, conservation, environment and veterinary sciences
Reviews
This is a very timely book which, whilst focusing on a single species and tourism, actually challenges us in our views of tourism in a range of natural and cultural settings. I liked the book immensely and recommend it as an extremely useful point of reference in regard to the nexus between vulnerable species, dependent local communities, and visitors seeking authentic interactions with icon animal species. - Ross K. Dowling, Journal of Ecotourism
Eric Laws has an MPhil from the University of Surrey and a PhD from Griffith University. He has retired from full time academic life, and is Visiting Professor at Leshan Normal University, Sichuan, P.R. China. His research interests include tourism service quality, destination management, crisis management and elephant tourism. Eric's publications include nearly 100 journal articles, book chapters and conference papers. The Elephant Tourism Business is Eric's twentieth authored or edited book.
Noel Scott is Adjunct Professor of Tourism Management in the Sustainability Research Centre, University of the Sunshine Coast. His research interests include the study of wildlife tourism, tourism experiences, destination management and marketing, and stakeholder organization. He has over 300 academic articles published including 16 books. He is on the Editorial Board of 10 journals, a Fellow of the Council of Australian University Tourism and Hospitality Educators, and a member of the International Association of China Tourism Scholars.
Xavier Font is professor of sustainability marketing at the University of Surrey. He researches and develops methods of sustainable tourism production and consumption. He has published widely about sustainable tourism certification, and has consulted on sustainable product development, marketing and communication for UNEP, UNCTAD, UNWTO, IFC, EC, VisitEngland, Fáilte Ireland, WWF and the Travel Foundation amongst others. Since January 2019, he is the new co-editor of the Journal of Sustainable Tourism. He has conducted over 130 courses for more than 2500 businesses on how to market and communicate sustainability, see www.travindy.com
John Koldowski As a Professor and Foreign Expert within the School of Tourism at Leshan Normal University (LSNU), John continues in his role as a researcher and educator across a number of research areas, including the responsible and sustainable development of mountain-area tourism, rural tourism development and the development of metrics for the better measurement of the impact of tourism in fragile areas and on the intangible assets of tourism. Prior to joining LSNU, John was with the College of Innovation at Thailand's Thammasat University, and a founding member of the Tourism Action Group (TAG) at the same institution. He was also part of the Secretariat for the PATA Thailand Chapter for a number of years, while living and working in Thailand. Before entering academia, Mr. Koldowski was Deputy CEO of PATA where over a fifteen-year span he came to be regarded as one of the travel and tourism sector's leading analysts. He still maintains his relationship with PATA through his appointment as a special advisor to the CEO.
Like most websites we use cookies. This is to ensure that we give you the best experience possible. Continuing to use
CABI.org
means you agree to our use of cookies. If you would like to, you can learn more about the cookies we use
here
.
Privacy Overview
This website uses cookies to improve your experience while you navigate through the website. Out of these, the cookies that are categorized as necessary are stored on your browser as they are essential for the working of basic functionalities of the website. We also use third-party cookies that help us analyze and understand how you use this website. These cookies will be stored in your browser only with your consent. You also have the option to opt-out of these cookies. But opting out of some of these cookies may affect your browsing experience.