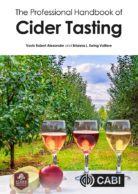 The Professional Handbook of Cider Tasting
By: Travis Alexander, Washington State University, US, Brianna Ewing, Washington State University, US
December 2019 | Paperback | 96 Pages | 9781789245493
Description
In recent years, with the rise of the craft beverage movement, the cider industry has been through a period of rapid commercial and non-commercial growth. Tasting and quality control is a core aspect of successful cider making and it is essential for industry and researchers to characterize cider using a standard, quantifiable metric. This book is a research-based text for understanding both the theory and practice of effectively evaluating the sensory properties of cider.
The Professional Handbook of Cider Tasting includes content on the physiological basis of sensory evaluation, effective profiling of sensory evaluation, types and styles of cider, origins of cider quality attributes and direction for pairing cider with foods. The book also:
- Covers a broad range of cider tasting techniques with associated technical explanations.
- Provides data and research-driven information.
- Contains sample sensory evaluation sheets, a tasting wheel, and guidance for creating fresh cider sensory standards and the utilization of various apple cultivars.
Including a summary of the current global cider styles, this is an invaluable resource for commercial cidermakers, non-commercial cidermakers, students on cider production courses, researchers and other industry and stakeholder personnel.
Table of contents
1: Introduction
2: Sensory Evaluation: The Physiological Basis
3: Sensory Evaluation: Effective Profiling
4: Types and Styles of Cider
5: Origins of Cider Quality Attributes
6: Pairing Cider with Food
7: Appendix
Readership
Commercial and non-commercial cider makers, cider apple growers, cider distributors, university instructors in food science, researchers in fermentation and apple production.
Reviews
Have you read this book, or used it for one of your courses? We would love to hear your feedback. Email our reviews team to submit a review.
Editor Bio
Travis Alexander is a Postdoc in the Department of Horticulture at Washington State University. Travis received his B.S. in Biochemistry from the University of California, San Diego, M.S. in Horticulture from the University of California, Davis, and Ph.D. in Horticulture from WSU. His doctorate work focused on advancing cider apple production through evaluations of mechanized harvest and comparisons of regional cider apple juice quality. Travis's postdoctoral work involves evaluating current metrics of cider apple fruit quality to provide growers with a more optimized means of assessing quality up to and at harvest.
Bri Ewing is a Clinical Assistant Professor in the School of Food Science at Washington State University. Bri teaches the nationally recognized Cider & Perry Production – A Foundation course along with other fermentation workshops. Bri received her B.S. in Molecular Environmental Biology from the University of California, Berkeley and M.S. in Food Science and Technology from Virginia Tech where her master's research focused on the correlation between apple maturity, post-harvest storage conditions, and the quality and chemistry of hard cider. Bri also has industry experience working at wineries in California and New Zealand. Bri hopes to expand her extension program to include more resources for cidermakers and fermentation professionals as a whole.
Like most websites we use cookies. This is to ensure that we give you the best experience possible. Continuing to use www.cabi.org means you agree to our use of cookies. If you would like to, you can learn more about the cookies we use here.