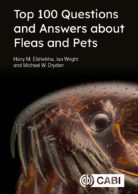 Top 100 Questions and Answers about Fleas and Pets
By: Hany Elsheikha, University of Nottingham, UK, Ian Wright, Mount Veterinary Practice, UK, Michael Dryden, Kansas State University, USA
November 2019 | Paperback | 58 Pages | 9781789245486
December 2019 | ePDF 9781789245462 | ePub 9781789245479
Description
If a pet has a flea problem, you're probably trying to solve it. Unfortunately, flea infestations are very difficult to eliminate!

Thankfully, we now know more about the biology and treatment of fleas than ever before, which has led to safe, effective, and affordable treatments, both on pets and in the home environment. This book provides an easy introduction to fleas for pet owners and the veterinary professionals advising them, to help effectively prevent, control and treat infestations. Detailing the most effective treatment and prevention options, the book:

Provides accessible and easy to understand information as commonly asked questions and answers.
Describes the changes in animal and human health when flea infestations occur.
Includes practical advice pitched at a level for both owners and veterinary nurses.

Top 100 Question and Answers About Fleas covers all the important facts you need to know about fleas in an easy question and answer format. Informative and interesting, it is an invaluable aid in your quest to provide the best quality of life to beloved pets.
Table of contents
-: Preface
1: Basics of Fleas
2: Fleas and Pets
3: Fleas and People
4: Sorting Out Flea Problems
-: Take Home Message
-: Bibliography
Readership
Suitable for veterinary nurses.
Reviews
Top 100 Questions and Answers about Fleas and Pets provides thorough coverage of all aspects of fleas, ranging from biological components to prevention strategies, in 4 easy-to-read and comprehensive chapters. The information contained in this book provides basic introductory knowledge to pet owners who are dealing with flea challenges in their homes or with their pets. It is also informative for pet owners who are curious about a malady that they are not yet aware of or experiencing. Overall, this book provides readers with well-documented, factual information about fleas in a cohesive, easy-to-understand manner. It will be a valuable reference for pet owners as well as veterinary staff, students, and practitioners. - Lindsay A. Starkey
Hany Elsheikha is an Associate Professor of Veterinary Parasitology at the School of Veterinary Medicine and Science, University of Nottingham. He earned his PhD in Molecular and Evolutionary Parasitology from Michigan State University, where he studied the genetic population structure of the protozoan Sarcocystis neurona, the agent of equine protozoal myeloencephalitis in the Americas. In 2005, he was awarded the National Center for Infectious Diseases (NCID), Centers for Disease Control and Prevention (CDC) Postdoctoral Fellowship. He is the author of more than 250 research and professional articles on parasite pathobiology and control. Hany is the author of one US patent and three textbooks. Also, he is a diplomate of the European Veterinary Parasitology College (EVPC), a member of the European Scientific Counsel of Companion Animal Parasites (ESCCAP) UK & Ireland, a Fellow of the Royal Society of Public Health (RSPH) and a Fellow of the Higher Education Academy (HEA). From 2014 to 2015, Hany was the inaugural Specialty Chief Editor of Parasitology in the journal Frontiers in Veterinary Science . He serves on the Editorial Board of five peer-reviewed journals and as Reviewer of several journals and national and international funding agencies. Since 2007 he has been at the University of Nottingham, where he established the veterinary parasitology curriculum from its inception. Hany is also a veterinarian by training; he obtained a first-class degree with distinction in Veterinary Sciences and MSc in Veterinary Parasitology from Cairo University. His research focuses on host-parasite interaction and anti-parasitic drug discovery.
Ian is a practising Veterinary surgeon and co-owner of the Mount Veterinary Practice in Fleetwood. He has a Master's degree in Veterinary Parasitology, is head of the European Scientific Counsel of Companion Animal Parasites (ESCCAP) UK & Ireland and guideline director for ESCCAP Europe. Ian is regularly published in peer review journals, an editorial board member for the Companion animal journal as well as peer reviewing for journals such as JSAP, Companion animal and Veterinary Parasitology. He continues to carry out research in practice including work on intestinal nematodes and tick borne diseases.
Michael Dryden, DVM, PhD is a University Distinguished Professor of Veterinary Parasitology, in the Department of Diagnostic Medicine and Pathobiology at Kansas State University. He is the author or co-author of over 120 journal articles and book chapters. He has lectured in 21 countries, presenting over 850 invited seminars at national and international meetings. Current research efforts are directed towards investigating the biology and control of fleas and ticks parasitizing dogs and cats and the diagnosis & control of gastrointestinal parasites.