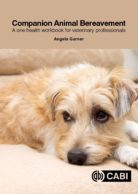 Companion Animal Bereavement
A One Health Workbook for Veterinary Professionals
By: Angela Garner, Animal Bereavement Specialist, UK
October 2021 | Paperback | 176 Pages | 9781789245370
October 2021 | ePDF 9781789245387 | ePub 9781789245394
Description
This concise workbook is written as a guide for veterinary professionals to support owners through the many challenges they face before, during and after the death of their companion animal.

This unique text provides a wealth of practical advice to be used when supporting both adults and children through the grief process. It offers support when discussing subjects such as natural death versus euthanasia and guiding owners through after death services. Also, it covers the difficulties experienced by owners due to separation for other reasons, such as when a pet has to be rehomed. The book:

- Gives highly practical guidance on pet bereavement support for vet staff before, during and after animal loss, including communicating with highly distressed people;
- Includes exercises and activities which can be downloaded and shared with owners to help them cope with the destabilising effects of grief;
- Helps gain a deeper understanding of the owners' perceptions of the process, including their fears and feelings;
- Addresses the importance of self-care and peer support within the veterinary team or animal welfare organisation;
- Contains numerous case studies and practical examples in the book and via additional online resources.
Table of contents
1: Perspective from Opposite Sides of the Consulting Table
2: Communicating with Distressed Owners
3: Approaching End-of-life Issues with Owners
4: The Owner's Resources
5: End-of-life Planning
6: Supporting the Owner as They Find the Right Time to Say Goodbye
7: Euthanasia for Pet Behaviour Problems
8: Euthanasia, Sudden Death and Natural Death
9: After-death Services and Memorials
10: Supporting the Newly Bereaved Pet Owner
11: Difficulties During the Grief Process
12: Children and Companion Animal Bereavement
13: Guiding Owners – Caring for Grieving Animals and Taking on a New Pet
14: The Personal Cost of Caring
15: From Compassion Fatigue to Compassion Resilience
16: A Holistic Approach to End-of-life Support in Practice
1: Epilogue
2: References and Resources
Readership
Suitable for: Veterinary practitioners, veterinary nurses, animal welfare organisations and animal hospices.
Reviews
'This book takes the reader through all aspects of supporting owners leading up to euthanasia and beyond. Angela explores in great detail the emotional complexities and needs of those who care for their pets during this most difficult period so that while we as veterinarians look after our patients, we are able to, equally importantly, look after the owners.' - From the foreword by Peter Wright, Yorkshire Vet
The range of topics covered in order to support the mental, physical and emotional wellbeing of both owners and their companion animals is vast. From communication techniques to compassion fatigue, loneliness to guilt, grief frameworks to self-care, this book makes all areas of bereavement accessible and understandable, without slipping into a sad narrative. The fact that different types of animal loss are discussed (euthanasia, sudden pet loss, terminal illness) and that perspectives from different owners are considered (children, the elderly, health professionals themselves) makes this a singular go-to for any veterinary professional. The considerations on in-practice training, exercises and team dynamics makes the book immediately accessible and relatable to the whole scope of professionals who influence, and are influenced by, the end-of-life journeys of animals and their owners. Angela Garner has managed to bring together the difficult, and sometimes elusive, aspects of the bereavement process and create a resource that will benefit the wellbeing and welfare of owners, companion animals and professionals for many years to come. - Andrew Perry, Programme Manager for Animal Assisted Therapy
During 30 years in human healthcare as a Registered General Nurse, Angela developed a strong interest in end-of-life issues and communicating with the dying and bereaved with empathy and sensitivity. With a life-long passion and interest in animal welfare, it was a natural progression to specialise in companion animal bereavement support. Shortly after gaining her diploma in this area in 2001, she was asked to set up and run an innovative national pet bereavement support service for a small charity, called Environmental Animal Sanctuary & Education (EASE) in the United Kingdom.
Over the years Angela has developed her own unique methods of communicating with bereaved pet owners, and written a wide range of support literature on the subject, including a children's activity book. In 2021 her first book for owners was published and is currently available worldwide. In 2012, she was awarded a Fellowship by the Society of Bereavement Practitioners in respect of her work, and in 2021 the Society presented her with their prestigious 'President's Award of Merit'.
After learning to teach in the adult sector, she moved into teaching and lecturing on this subject, and has successfully presented to vet staff and animal welfare organisations on this subject. In 2015 Angela was invited to lecture at the British Equine Veterinary Association (BEVA) annual conference, the video of which can be viewed on her website: www.petlosspress.com
Like most websites we use cookies. This is to ensure that we give you the best experience possible. Continuing to use
CABI.org
means you agree to our use of cookies. If you would like to, you can learn more about the cookies we use
here
.
Privacy Overview
This website uses cookies to improve your experience while you navigate through the website. Out of these, the cookies that are categorized as necessary are stored on your browser as they are essential for the working of basic functionalities of the website. We also use third-party cookies that help us analyze and understand how you use this website. These cookies will be stored in your browser only with your consent. You also have the option to opt-out of these cookies. But opting out of some of these cookies may affect your browsing experience.