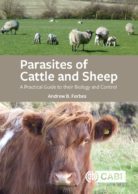 Parasites of Cattle and Sheep
A Practical Guide to their Biology and Control
By: Andrew B Forbes, University of Glasgow, UK
December 2020 | Paperback | 392 Pages | 9781789245158
December 2020 | ePDF 9781789245165 | ePub 9781789245172
Description
Understanding parasite biology and impact is essential when giving advice on parasite control in farm animals. In the first review devoted to parasites of domestic cattle and sheep alone, this book provides in-depth, focused advice which can be tailored to individual farms. It considers the impact of parasites, both as individual species and as co-infections, as well as epidemiological information, monitoring, and diagnostic procedures. Supported throughout by diagrams and photos to aid diagnosis, it also reviews the basis for control measures such as the responsible use of parasiticides, adaptive animal husbandry and other management practices.

This book:
Focuses on common parasites of domestic sheep and cattle;
Places emphasis on understanding host responses and epidemiology so that the impact and seasonality of parasitism can be incorporated into advice and decision making;
Highlights the fundamental importance of the individual farm and farmer in assessing endemic parasitism and tailoring control options accordingly;
Provides a comprehensive reference listing, including important historical citations, to underpin the content.

An important resource for students, veterinarians and researchers of farm animal health, this book maintains a focus on ruminant parasitology in order to deliver evidence-based advice and also context for the application of basic research.
Table of contents
1: The Origin and Evolution of Parasitism in Domestic Ruminants
2: Parasitic Gastroenteritis in Cattle
3: Parasitic Gastroenteritis in Sheep: Teladorsagiosis and Trichostrongylosis
4: Parasitic Gastritis in Sheep: Haemonchosis and Parasitic Enteritis in Lambs, Nematodirosis Parasitic Gastritis in Sheep: Haemonchosis
5: Tapeworm infections in Sheep and Cattle
6: Parasitic Enteritis: Coccidiosis
7: Lungworm infections in Sheep and Cattle
8: Lungworm infections in Sheep
9: Liver fluke in Sheep and Cattle
10: Rumen Fluke
11: Dicrocoelium dendriticum: the Lancet or Lanceolate fluke
12: Obligate Ectoparasites of Cattle: Lice and Mange
13: Ectoparasites in cattle: Flies
14: Ectoparasites of Sheep: Sheep Mites
15: Sheep Ectoparasites: Insects
16: Ticks and Tick-borne Disease
17: Grazing management and Helminth control on Stock farms
18: Responsible use of Parasiticides
19: Principles and Practical Implementation of Parasite Control on Livestock Farms
Readership
Suitable for veterinarians, and researchers and students of farm animal health, animal science and parasitology.
Reviews
Have you read this book, or used it for one of your courses? We would love to hear your feedback. Email our reviews team to submit a review.
Andrew B Forbes – Royal (Dick) School of Veterinary Studies, University of Edinburgh, Scotland, 1971 BVM&S., Royal College of Veterinary Surgeons, UK, 1971 MRCVS. Certified Biologist, Member of the Royal Society of Biology, 2001 – CBiol.,MRSB. Foundation Diplomate of the European Veterinary Parasitology College, 2003 – DipEVPC. Doctor of Philosophy, University of Ghent, Belgium, 2008 – Ph.D. Past President of British Cattle Veterinary Association (BCVA) and British Association of Veterinary Parasitology (BAVP). Seven years general veterinary practice in Scotland, southern Africa and New Zealand. Thirty five years in Animal Health Industry in technical and research roles at national, European and global levels, predominantly focused on ruminant parasitology. Currently Honorary Professor, School of Veterinary Medicine, Glasgow University, involved with parasitology teaching and various related research projects. Independent Veterinary Parasitologist; mentor to post-graduate students at the universities of Dublin, Glasgow and Belfast; regular CPD provider to BCVA and ad hoc to other organisations. (Co-) author of over 65 papers on ruminant parasitology in peer-reviewed journals, including several, recent practitioner-oriented reviews in Livestock. I live on a small, 6 hectare, grass farm where we have kept sheep for ~20 years, so I also have a farmer's perspective on keeping livestock and controlling parasites.
Like most websites we use cookies. This is to ensure that we give you the best experience possible. Continuing to use www.cabi.org means you agree to our use of cookies. If you would like to, you can learn more about the cookies we use here.